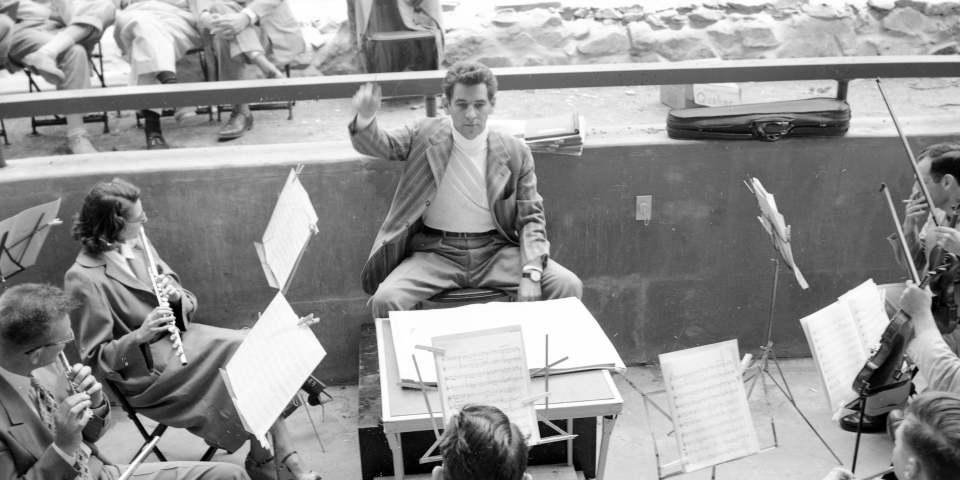 Leonard Bernstein conducting at a rehearsal for the premiere of "Trouble in Tahiti" at the inaugural Brandeis Creative Arts Festival in 1952. courtesy of Robert D. Farber University Archives and Special Collections Department, Brandeis.
Leonard Bernstein at Brandeis University
Leonard Bernstein served on the Brandeis University Department of Music faculty from 1951-56 and was a prominent supporter of the young university.
The Festival of the Creative Arts at Brandeis, founded in 1952 by Brandeis faculty member Leonard Bernstein, was dedicated to the belief that " the art of an era is a reflection of the society in which it is produced, and through creative endeavors the thoughts and expression which characterize each generation are revealed and transformed."
That historic event included the world premiere of Bernstein's opera Trouble In Tahiti, and a new translation by Marc Blizstein of Kurt Weill's The Threepenny Opera performed by Lotte Lenya. The festival offered dance performances by Merce Cunningham, music by Aaron Copland and Miles Davis, poetry readings by William Carlos Williams, and symposia on the then state of the arts.
The following year, Bernstein gave the festival the theme of "The Comic Spirit," inviting S.J. Perelman, Fred Allen, and Irwin Corey, among others, to speak. There was a symposium on the comic strip; a performance of comic poetry; a comic opera; and a concerto for tap dancer and orchestra. Bernstein taught courses on modern music and opera, and held an intimate seminar for undergraduate composers at which he workshopped his new score for Candide.
Bernstein served as a University Fellow from 1958-76 and was on the university's Board of Trustees from 1976 to 1981. He was a trustee emeritus until his death in 1990. The annual Festival of the Creative Arts was renamed in Bernstein's honor in 2005.