Bernstein at 100
#BernsteinAt100

Leonard Bernstein at 100 was the world-wide celebration of the 100th birthday of Leonard Bernstein, the composer, conductor, educator, musician, cultural ambassador, and humanitarian, officially beginning on August 25, 2017, Bernstein's 99th birthday, and continuing through his 100th year until August 25, 2019. We thank everyone for their participation in this monumental celebration of one of America's influential figures!
The Leonard Bernstein at 100 Celebration far exceeded anyone's expectations – even our own. When The Leonard Bernstein Office began planning its two-year global venture, we couldn't predict the results of our efforts – but we plunged in anyway.
We began by organizing "summits" in several culturally vibrant cities: gatherings with leaders from the area's major cultural institutions to brainstorm about their ideas for celebrating Bernstein. Cross-pollination was strongly encouraged.
Together with our partners -- Concord (Boosey & Hawkes and Tams-Witmark), Deutsche Grammophon, Hal Leonard, Music Theatre International (MTI), Sony, and Universal Music Publishing Group -- we found innumerable ways to make Bernstein's music accessible on a global scale.
Between the September 2017 kickoff at the John F. Kennedy Center for the Performing Arts in Washington D.C., and the last notes played at Ravinia in August 2019, over 5,700 Centennial-related events have been tabulated worldwide. The scope of the celebration was not only astounding, but wholly fitting. Jamie Bernstein said, "We quickly realized that Leonard Bernstein is especially suited to a centennial celebration, because he was so multifarious. There's something for everyone to celebrate!" In addition to performances in profusion, there were exhibitions, symposia, and documentaries; books and educational initiatives; broadcasts and podcasts; recordings, videos, and beyond -- all occurring on 6 continents and in all 50 states, celebrating the multifaceted career and life of Leonard Bernstein.
The Centennial was a unique opportunity for The Leonard Bernstein Office to strengthen its ties with valued associates, as well as to explore new relationships with artists, institutions, and festivals throughout the world.
According to Bachtrack.com's 2018 statistical performance survey, Leonard Bernstein was the third-most played composer for the year, alongside Beethoven, Mozart, Bach, and Brahms, taking a top spot among the perpetual greats. Bachtrack also reported, that four of the five most-played concert works in 2018 were Bernstein Compositions: Symphonic Dances from West Side Story, Overture to Candide, Serenade (after Plato's Symposium), and Chichester Psalms.
A whopping 612 orchestras performed Bernstein works, magnifying the composer's significance in the canon of 20th century music. In a particularly notable expression of enthusiasm, Serenade for solo violin and orchestra had 276 performances by 139 orchestras, featuring 80 accomplished violin soloists.
Bernstein's three symphonies saw a particularly noteworthy increase in performances, with Symphony No. 2: Age of Anxiety for solo piano and orchestra receiving 183 performances by 85 orchestras and 50 pianists. Symphony No. 1: Jeremiah had 96 performances and Symphony No. 3: Kaddish received 54 performances. Leading orchestras that championed all three symphonies during the Centennial include the New York Philharmonic, Shanghai Symphony Orchestra, Real Orquesta Sinfonica de Sevilla, and Orchestra dell'Accademia Nazionale di Santa Cecila. The latter's recording of the symphonies under the baton of Antonio Pappano garnered critical acclaim.
Opera and theater companies worldwide embraced Bernstein's works. To cite one example: Candide, one of Bernstein's most popular works for the stage, rose from the 92nd most performed opera world-wide in 2017, to the 11th most performed opera world-wide in 2018 [Bachtrack.com]. A Quiet Place was performed by opera companies in Austria, Germany, Hungary, the Netherlands, and the US. MASS was another success with over 100 performances, which took place in Asia, Europe, North America, and South America.
West Side Story continued its longtime success and popularity, with both theatre and opera companies worldwide. The Centennial's performances included exciting new productions from Opera Australia's Handa Opera on Sydney Harbour; Takarazuka Revue's all-female production in Japan; the Fugard Theater's in South Africa, the Guthrie Theatre's production in Minneapolis, the Komische Oper in Berlin and SOM Productions in Spain, to name only a few.
The Centennial was an occasion for revisiting time-honored dance works, as well as bringing exciting new choreographies to life. Bernstein's first collaboration with Jerome Robbins, the ballet Fancy Free, had performances by major ballet companies in New York, Paris, Boston, San Francisco, Houston, Pittsburgh, Cincinnati, and Washington, DC. The Royal Ballet's Bernstein Celebration, which included new ballets by Wayne McGregor, Christopher Wheeldon, and Liam Scarlett, was screened to theaters throughout Europe, Asia and Australia, and later released on DVD. In Germany, Kim Brandstrup set a new ballet to the music of Dybbuk. New York City Ballet premiered Justin Peck's Easy, set to Bernstein's irresistibly jazzy Prelude, Fugue & Riffs. In the world of modern dance, such choreographers as Larry Keigwin, Tom Gold, Doug Varone, and Kyle Abraham found inspiration in the music and celebration of Leonard Bernstein.
New orchestrations appeared during the Centennial – including the premieres of new orchestrations of the scores to A Quiet Place, Fancy Free and Dybbuk, as well as a new arrangement for orchestra of Bernstein's piano Anniversaries, created by Garth Edwin Sunderland, Vice President for Creative Projects.
Bernstein's principal recording companies, Sony Classical and Deutsche Grammophon, issued lavish commemorative box sets and remastered recordings for the Centennial. Several documentaries were released for DVD and telecast; a sampling includes Leonard Bernstein: A Genius Divided, Bernstein and Me, Leonard Bernstein Reflections, Leonard Bernstein: Larger Than Life; and The Genius of Bernstein, and Passions: Bernstein by Dame Kiri Ti Kanawa.
In addition to the re-release of Humphrey Burton's authoritative Bernstein biography, many new books graced the Centennial – including such titles as Leonard Bernstein: I Fell in Love with Schleswig-Holstein (Kuhnt/Bernstein) ; On the Road & Off the Record with Leonard Bernstein (Harmon); Leonard Bernstein and the Language of Jazz (Baber), Maestros and Their Music (Mauceri), Famous Father Girl: A Memoir of Growing Up Bernstein (Bernstein), and Leonard Bernstein 100: The Masters Photograph the Maestro (Sherman/Bernstein).
National and international television and radio broadcasts helped Bernstein's music reach new audiences. The GRAMMY Awards paid homage to the composer at the 60th Annual GRAMMY Awards Ceremony with a performance of "Somewhere" from West Side Story by TONY and GRAMMY award-winning artist Ben Platt. The Boston Symphony Orchestra's gala concert The Bernstein Centennial Celebration at Tanglewood was subsequently broadcast in the US, Germany, and Japan. The New York Philharmonic's New Year's Eve: Bernstein on Broadway concert was telecast on Live from Lincoln Center. Bernstein's music was featured on three televised Fourth of July Specials in 2018: A Capitol Fourth in Washington D.C.; Macy's Fourth of July Fireworks in New York City; and the Boston Pops Fireworks Spectacular in Boston. Bernstein even had his moment on an episode of Jeopardy! with an entire category of "Leonard Bernstein at 100." Ravinia's production of MASS, conducted by Marin Alsop, was broadcast on PBS Great Performances in May 2020.
Leonard Bernstein's legacy as a composer, conductor, educator, and humanitarian was brought to the forefront during the centennial through numerous educational initiatives. Symposia were held at the Musikverein in Vienna, the Tucson Desert Song Festival, the Juilliard School, Colorado College, and Chichester Cathedral. Panel discussions, pre- and post-concert talks, and classes were held at performance spaces, major venues, schools, and libraries around the globe. These initiatives introduced Leonard Bernstein to a new generation of young audiences and performers -- including emerging conductors, soloists, and educators -- all immersing themselves in Bernstein's music.
There were several large-scale museum exhibitions on Bernstein in the Centennial year. The GRAMMY Museum's travelling exhibit "Leonard Bernstein at 100" opened at The Kennedy Center in Washington D.C., and subsequently moved to The New York Public Library for the Performing Arts in New York City; the Skirball Cultural Center in Los Angeles; the New England Conservatory in Boston; the Sherwin Miller Museum of Jewish Art with the Woody Guthrie Center in Tulsa; the Ravinia Festival in Chicago; and the Oregon Jewish Museum in Portland. The National Museum of American Jewish History in Philadelphia mounted a large-scale exhibition "Leonard Bernstein: The Power of Music," illustrating Bernstein's life, Jewish identity, and social activism. The exhibit travelled to Brandeis University in Waltham, MA, and the Maltz Museum of Jewish Heritage in Cleveland. The fascinating relationship between Bernstein and Vienna was explored in two major exhibits there, curated by the Jewish Museum Vienna and the Haus der Musik Vienna in collaboration with the Archive of the Vienna Philharmonic Orchestra.
To say we are thrilled about the magnitude of Bernstein activity these past two years is a vast understatement, and we desperately wish Lenny were here to see it all. No other contemporary musician could have received such a multifaceted centennial celebration. It seems that Leonard Bernstein's time has indeed come.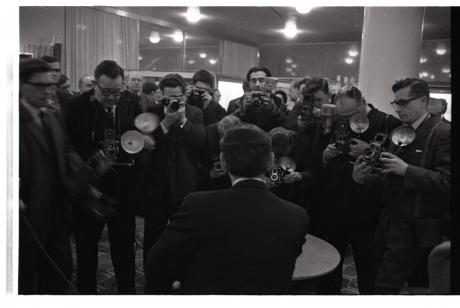 Thursday November 30, 2023
7:00 pm
Kongresssaal, Bad Ischl, Austria
7:00 pm
Theater Kiel, Kiel, Germany