News
VARIETY - 'West Side Story' First Look Shows Cast of Steven Spielberg's Upcoming Musical

The first look at the Jets and the Sharks in Steven Spielberg's upcoming version of "West Side Story" has been unveiled by 20th Century Fox.

Leonard Bernstein at Ravinia!

On July 4, 1944 (75 years ago!), Leonard Bernstein made his first appearance with the Chicago Symphony Orchestra at the Ravinia Festival. This summer, the festival celebrates the culmination of the Centennial with several exciting concerts and activities.

Jamie Bernstein's memoir "Famous Father Girl" Now Available in Paperback

Jamie Bernstein, daughter of revered composer/conductor Leonard Bernstein offers a rare look at her father on the centennial of his birth in a deeply intimate and broadly evocative memoir. In Famous Father Girl, Bernstein mines the emotional depths of her childhood and invites us into her family's private world. Deeply moving and often hilarious, Bernstein's beautifully written memoir is a great American story about one of the greatest Americans of the modern age.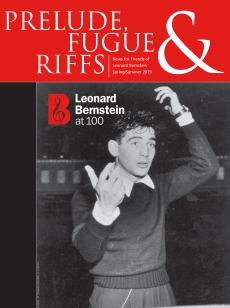 Browse the current and past issues of our newsletter, Prelude, Fugue & Riffs!
Monday August 19, 2019
7:00 pm
, Chicago, United States
7:00 pm
Ravinia Festival, Chicago. IL, Switzerland