News
West Side Story School Edition to be released

One of the most memorable musicals of all time has been adapted for the high school stage. With additional resources for students and directors, West Side Story School Edition makes the iconic musical more accessible and meaningful for high school performers.

Happy 100th birthday to American composer, arranger and orchestrator Sid Ramin!

"Sid," as he was known by one and all, is the quintessential superstar-behind-the-scenes. To Leonard Bernstein, Sid was almost like a magic totem.

Jamie Bernstein's memoir "Famous Father Girl" NOW AVAILABLE

Jamie Bernstein, daughter of revered composer/conductor Leonard Bernstein offers a rare look at her father on the centennial of his birth in a deeply intimate and broadly evocative memoir. In Famous Father Girl, Bernstein mines the emotional depths of her childhood and invites us into her family's private world. Deeply moving and often hilarious, Bernstein's beautifully written memoir is a great American story about one of the greatest Americans of the modern age.
Latest News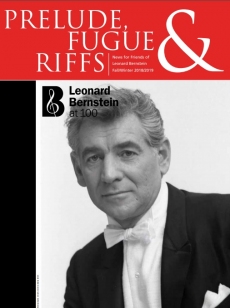 Browse the current and past issues of our newsletter, Prelude, Fugue & Riffs!
Wednesday January 23, 2019
7:00 pm
Helsinki Music Centre, Concert Hall, Helsinki, Finland
7:30 pm
Liederkranz Foundation, New York, NY, United States