News
On The Town at Regents Park in London, May 19 through July 1

Olivier Award-winner Drew McOnie directs and choreographs the production with Danny Mac, Fred Haig and Samuel Edwards play Gabey, Chip and Ozzie - roles made famous on film by Gene Kelly, Frank Sinatra and Jules Munshin - and Siena Kelly, Lizzy Connolly and Miriam-Teak Lee take the roles of Ivy, Hildy and Claire. The cast also features Maggie Steed as Madame Dilly and Naoko Mori as Lucy Schmeeler.

#HelluvaTown
#HelluvaShow

NOW AVAILABLE: Sony Classical's latest box-set, "Leonard Bernstein - The Composer"

"At the heart of this edition are the remastered original 'Bernstein conducts Bernstein' recordings for Columbia Masterworks of all his works.

Writing about these benchmark 1960s and 1970s recordings with the composer conducting his New York Philharmonic, The Guardian's reviewer declared: 'There's a raw ebullience to the performances that is typical of Bernstein at his best ... They are all historic performances.'"

Announcing Leonard Bernstein at 100!

The two-year global celebration of the life and career of the 20th century cultural giant, featuring more than 1,000 events on six continents will kick off at The John F. Kennedy Center for the Performing Arts on Friday, September 22, 2017 which continue worldwide through the end of August 2019.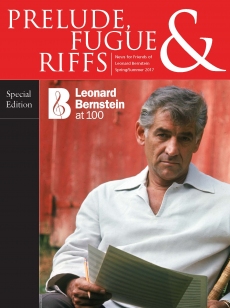 Browse the current and past issues of our newsletter, Prelude, Fugue & Riffs!
Monday June 26, 2017
7:00 pm
Musiktheater, Großer Saal, Linz, Austria
7:00 pm
Regent's Park Open Air Theatre, London, United Kingdom