News
The Bernstein Experience on Classical, Official Digital Partner of #Bernsteinat100, Debuts

Visit the Bernstein Experience for curated collections of archives, new articles, weekly news round-ups, travel blogs from the Bernstein children, exclusive audio and video footage, and more. Watch, listen, and read your way with us through The Bernstein Experience! Says Jamie Bernstein, Alexander Bernstein, and Nina Bernstein-Simmons: "We invite everyone to celebrate our dad on classical.org over the coming year!" More at: Classical.org

NOW AVAILABLE: Sony Classical's latest box-set, "Leonard Bernstein Remastered"

Ahead of his centennial in 2018, Sony Classical has released Leonard Bernstein's classic American Columbia recordings, remastered from their original 2- and multi-track analogue tapes. This remastered 100 CD set has allowed for the creation of a natural balance (for example, between the orchestra and solo instruments) that brings the quality of these half-century-old recordings, excellent for their time, up to the standards of today's audiophiles.

PBS Now Streaming NY Philharmonic's New Year's Eve Gala "BERNSTEIN ON BROADWAY"

In case you missed PBS's Live from Lincoln Center - "Bernstein on Broadway" this New Year's Eve, you can now stream the entire broadcast! In the show, stars from Broadway, including Annaleigh Ashford, Laura Osnes, Chris Jackson and Aaron Tveit joined the Philharmonic in tribute to the legendary composer.
Latest News
Vanity Fair: Leonard Bernstein, Jerome Robbins, and the Road to West Side Story
When Leonard Bernstein and Jerome Robbins met 75 years ago, they were young men hungry for their Big Break. Little did they know their partn…
Opera News: 'His Way' by William R. Braun
Leonard Bernstein didn't apply his protean talents to opera very often—but he made magic when he did.
Bernstein at the Grammys®
Leonard Bernstein was represented at the GRAMMY® Awards this past weekend, with tribute concerts and performances, as well as a win for SON…
Explore The Bernstein Experience on Classical.org!
Bernstein was a conductor, a pianist, a composer, a lyricist, a teacher, a poet, a writer, a father, a friend, a colleague, an activist, a h…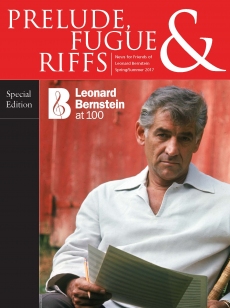 Browse the current and past issues of our newsletter, Prelude, Fugue & Riffs!
Thursday March 22, 2018
6:30 pm
Konzertsaal Tonhalle Maag, Zürich, Switzerland
7:00 pm
New York Public Library for the Performing Arts, Bruno Walter Auditorium, New York, New York, United States