News
We're going Digital!

Sign up for the Prelude, Fugue, & Riffs, the official Leonard Bernstein Newsletter.

Leonard Bernstein Works for Smaller Ensembles

For Live Performance under Social Distancing Regulations

As presenters and performers continue to contend with restrictions imposed by coronavirus and the performing arts search for ways to restart, Leonard Bernstein's innovative scores offer a wide range of audience-pleasers.

The Salzburg Festival turns 100!

2020 marks the 100th Anniversary of one of the world's most prominent classical music festivals.
Latest News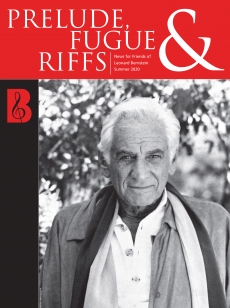 Browse the current and past issues of our newsletter, Prelude, Fugue & Riffs!
Newsletter
Come on, deliver...
to me!
Subscribe today
Saturday August 15, 2020
7:00 pm
Elbphilharmonie, Hamburg, Germany
7:00 pm
Schloss, Ludwigslust, Germany