News
NY Phil ❤️ NYC

A Virtual Gala Celebrating New York City!

Available to watch until December 1

New 2020 Publications

Leonard Bernstein and Washington, DC: Works, Politics, Performances
Edited by Daniel Abraham, Alicia Kopfstein-Penk, Andrew H. Weaver.

West Side Story: The Jets, the Sharks, and the Making of a Classic
by Richard Barrios.

West Side Story: A Novelization (updated)
by Irving Shulman.

Leonard Bernstein Works for Smaller Ensembles

For Live Performance under Social Distancing Regulations

As presenters and performers continue to contend with restrictions imposed by coronavirus and the performing arts search for ways to restart, Leonard Bernsteinl's innovative scores offer a wide range of audience-pleasers.
Latest News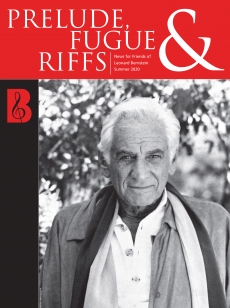 Browse the current and past issues of our newsletter, Prelude, Fugue & Riffs!
Newsletter
Come on, deliver...
to me!
Subscribe today
Saturday December 05, 2020
12:00 am
Liederhalle, Beethovensaal, Stuttgart, Germany
12:00 am
Liederhalle, Beethovensaal, Stuttgart, Germany