News
The Bernstein Experience on Classical, Official Digital Partner of #Bernsteinat100, Debuts

Visit the Bernstein Experience for curated collections of archives, new articles, weekly news round-ups, travel blogs from the Bernstein children, exclusive audio and video footage, and more. Watch, listen, and read your way with us through The Bernstein Experience! Says Jamie Bernstein, Alexander Bernstein, and Nina Bernstein-Simmons: "We invite everyone to celebrate our dad on classical.org over the coming year!"

More at: Classical.org

NOW AVAILABLE: Bernstein Complete Recordings on Deutsche Grammophon and Decca

Marking the Leonard Bernstein centenary in a suitably monumental style, Bernstein – Complete Recordings on Deutsche Grammophon and Decca contains all Bernstein's recordings as a conductor for DG and Decca, together with his complete DG/Unitel DVD catalogue. Comprising 121 CDs, 36 DVDs and a Blu-ray Audio disc, it features such legendary recordings as Wagner's Tristan und Isolde (1981), Bizet's Carmen (1972), works by Stravinsky and Shostakovich and, of course, the complete symphonies of Beethoven and Mahler.

Jamie Bernstein's memoir "Famous Father Girl" NOW AVAILABLE

Jamie Bernstein, daughter of revered composer/conductor Leonard Bernstein offers a rare look at her father on the centennial of his birth in a deeply intimate and broadly evocative memoir. In Famous Father Girl, Bernstein mines the emotional depths of her childhood and invites us into her family's private world. Deeply moving and often hilarious, Bernstein's beautifully written memoir is a great American story about one of the greatest Americans of the modern age.
Latest News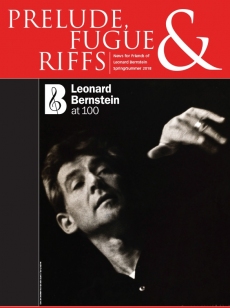 Browse the current and past issues of our newsletter, Prelude, Fugue & Riffs!
Friday July 20, 2018
6:00 pm
Gerald R. Ford Amphitheater, Vail, CO, United States
7:00 pm
Prinzregententheater, München, Germany