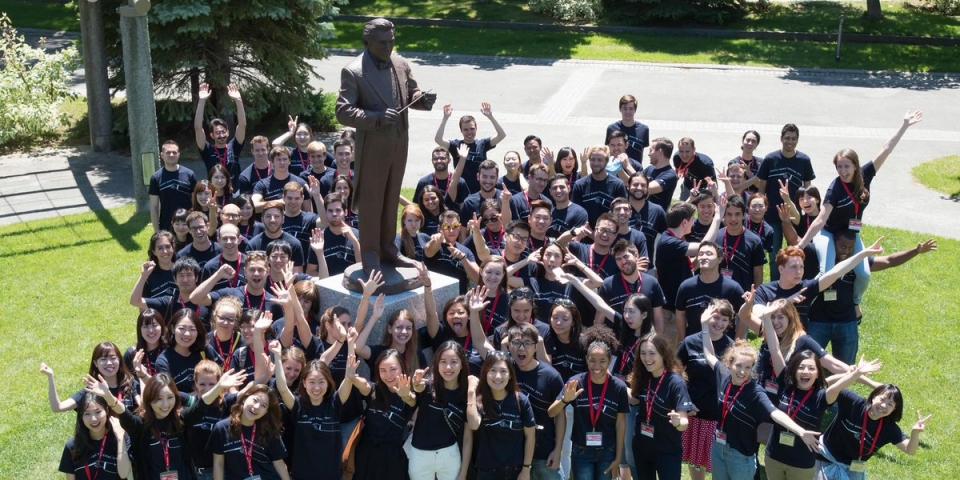 The 2016 Pacific Music Festival Orchestra at Leonard Bernstein Place in Sapporo
A Happy Set of Circumstances
The Birth of the Pacific Music Festival
by Atsushi Kobayashi
A saying often repeated in the tea ceremony teaches us that each human encounter is a once-in-a-lifetime experience and, as such, it should be revered. In January 1989, having worked 25 years with the Asatsu advertising agency, I became involved in a special kind of sales activity. Maestro Leonard Bernstein, who was to conduct the London Symphony Orchestra in Japan, was working on a plan to have the Orchestra perform in China. For this he needed a sponsor.
I was overjoyed at the news I got in February from Nomura Securities, a new client for my agency, telling me we'd received the approval of Nomura to sponsor the China tour.
In March, I went to New York to meet with the people I would be working with on this project. It was there I met Mr. Harry Kraut for the first time. With his beard, heavy smoking and confident manner, Harry was an imposing figure indeed.
Then, in June, came the events in Tiananmen Square in Beijing. After an emergency meeting in Rome, we agreed that the type of events planned for China would have to be switched to Japan. It was this twist of fate which led to the birth of the Pacific Music Festival.
To prepare the Pacific Music Festival, I went to Tanglewood, in Massachusetts, to attend the music festival there. Observing how that event was organized enabled me to understand Maestro Bernstein's concept of what the PMF should be.
In October, I returned to New York; in November, to London; then to Japan's northern city of Sapporo. I was very aware that the pattern of my life had suddenly changed.
December 6, 1989 was a day I shall never forget, as that was the date Leonard Bernstein announced to the world from London that the first Pacific Music Festival would be held in Sapporo in 1990. On this day the PMF was officially born.
As a result, I was like a fallen leaf riding the crest of a great wave. A whole new world had opened up for me, due, of course, to the involvement of Maestro Bernstein, whose own world had such vast horizons. I will always treasure my brief encounter with him, and I shall never forget his words, "Loving people and loving music are the same thing."