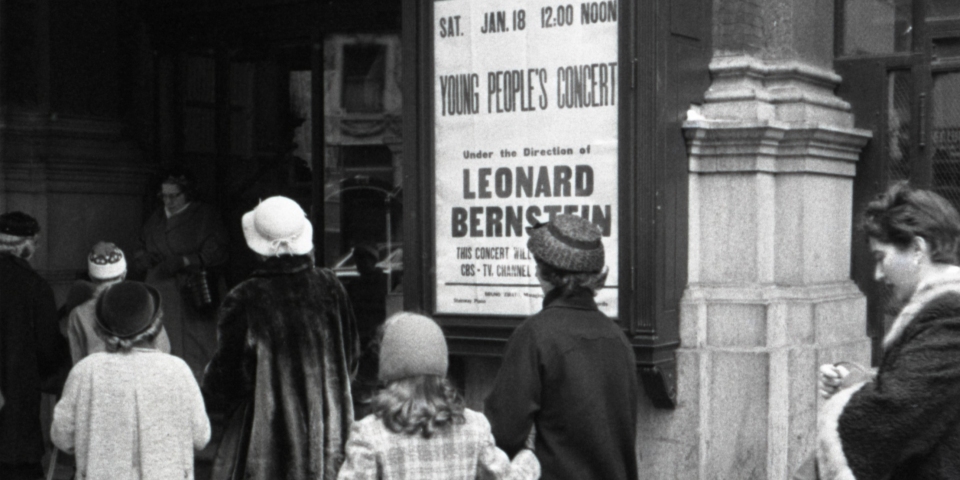 Photo by Don Hunstein (1958), courtesy of Sony Masterworks
Leonard Bernstein's Young People's Concerts
with the New York Philharmonic
Leonard Bernstein's Young People's Concerts with the New York Philharmonic stand among his greatest achievements. These televised programs introduced an entire generation to the joys of classical music.
Bernstein conducted his first Young People's Concert on January 18, 1958, just two weeks after becoming Music Director of the New York Philharmonic. Such programs were already a Philharmonic tradition when Bernstein arrived, but he made them a centerpiece of his work, part of what he described as his "educational mission." Looking back on the concerts years later, he referred to them as being "among my favorite, most highly prized activities of my life." When he took a sabbatical season from the orchestra in 1964-65, he still came back to lead the Young People's Concerts. He continued to lead these programs until 1972, even though he had stepped down as director of the Philharmonic in 1969.
Bernstein led a total of fifty-three Young People's Concerts during those fourteen years, and covered a broad range of subjects. The works of the great composers were explored, including tributes to modern masters such as Dmitri Shostakovich, Paul Hindemith, Gustav Holst, Aaron Copland and Charles Ives. Bernstein discussed "Jazz in the Concert Hall," "Folk Music in the Concert Hall," and "The Latin-American Spirit." He explained the intricacies of Music Theory in programs such as "Musical Atoms: A Study of Intervals" and "What is a Mode?" He broached complex aesthetic issues such as "What Does Music Mean?" (his first program) with clarity and without condescension. Bernstein also used the Young People's Concerts to introduce young performers to the musical world. The sixteen year-old pianist André Watts made his debut in the concert of January 15, 1963.
Bernstein usually planned the programs for the Young People's Concerts based on repertory from the New York Philharmonic's regular concert season. He wrote the scripts himself, then worked with the program's production staff to make any needed cuts, to clarify or simplify wording and analogies, and streamline the pacing of the presentation.
The actual production schedule was intense. Bernstein had to be present for technical rehearsals as early as 6 a.m. on the day of the concert. He rehearsed with the orchestra at 8 a.m., followed by a dress rehearsal at 10 a.m. The actual concert was at noon, presented before a packed house. In later years, the dress rehearsals were also presented before a audience. All of the programs were broadcast live, so there was no chance of editing out mistakes.
Originally broadcast on Saturday mornings, the programs were considered so important that for three glorious years CBS presented them at 7:30 p.m. (prime time for television viewing). Eventually the programs were moved to Sunday afternoons. The concerts were translated into other languages and syndicated to forty countries.
As with many of Bernstein's scripts, the scripts for the Young People's Concerts found their way into book form. First published in 1961 and revised in 1970, "Leonard Bernstein's Young People's Concerts" was expanded in 1992 to include a total of fifteen text transcriptions.
In 2019, Unitel, in conjunction with C Major Entertainment, released a new 3-volume set of Young People's Concerts. Previously only available in the United States, the groundbreaking series has been digitally remastered on DVD and Blu-ray for worldwide distribution. The 52 programs in this set took place 1960-1972 and covered a broad range of musical topics and composers including the music of Aaron Copland, Charles Ives, Bach, Liszt, Strauss, Hindemith, and many others. And, over the years, Bernstein used the Young People's Concerts as a platform to introduce exciting new performers to the musical world as seen in the nine Young Performers programs included in this new set, which includes appearances by a young André Watts, Paula Robison, and Lynn Harrell among others. Young conductors include Seiji Ozawa, Claudio Abbado, James DePreist, Sylvia Caduff, and Helen Quach.
For a listing of Young People's Concerts that have been released on video, visit the Videography.
Awards
Wins
1961 Primetime Emmy Award for Outstanding Program Achievement in the Field of Children's Programming
1962 Primetime Emmy Award for Outstanding Program Achievement in the Field of Children's Programming
1965 Primetime Emmy Award for Outstanding Individual Achievements In Entertainment (Leonard Bernstein)
1965 Primetime Emmy Award for Outstanding Program Achievements In Entertainment (Roger Englander)
1966 Primetime Emmy Award for Individual Achievements In Electronic Production (Laurence Schneider)
Nominations
1959 Primetime Emmy Award for Best Public Service Program Or Series
1960 Primetime Emmy Award for Outstanding Musical Program
1964 Primetime Emmy Award for Outstanding Directorial Achievement - Variety Or Music (Roger Englander)
1964 Primetime Emmy Award for Outstanding Musical Program
1966 Primetime Emmy Award for Outstanding Musical Program
1970 Primetime Emmy Award for Outstanding Directorial Achievement - Comedy, Variety or Music (Roger Englander)
1971 Primetime Emmy Award for Outstanding Directorial Achievement - Comedy, Variety or Music (Roger Englander, Walter C. Miller, Martin Charnin)
1972 Primetime Emmy Award for Outstanding Directorial Achievement - Comedy, Variety or Music (Roger Englander)