News
Let the festivities begin! #BernsteinAt100

The Leonard Bernstein at 100 Centennial celebrations kicked off this weekend! Check out our highlights from the Kennedy Center, the National Symphony Orchestra, the Boston Symphony Orchestra, the San Francisco Symphony Orchestra, and Google Cultural Institute.

NOW AVAILABLE: Sony Classical's latest box-set, "Leonard Bernstein - The Composer"

"At the heart of this edition are the remastered original 'Bernstein conducts Bernstein' recordings for Columbia Masterworks of all his works.

Writing about these benchmark 1960s and 1970s recordings with the composer conducting his New York Philharmonic, The Guardian's reviewer declared: 'There's a raw ebullience to the performances that is typical of Bernstein at his best ... They are all historic performances.'"

Announcing Leonard Bernstein at 100!

The two-year global celebration of the life and career of the 20th century cultural giant, featuring more than 1,000 events on six continents will kick off at The John F. Kennedy Center for the Performing Arts on Friday, September 22, 2017 which continue worldwide through the end of August 2019.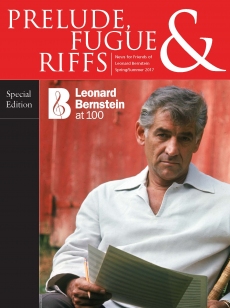 Browse the current and past issues of our newsletter, Prelude, Fugue & Riffs!
Wednesday December 13, 2017
7:00 pm
National Opera House, Wexford, Eire
7:00 pm
National Opera House, Wexford, Eire