News
Where will you celebrate on August 25?

International summer festivals focus on Leonard Bernstein in his centennial year, with a series of prestigious events around the birthday itself on 25 August, including the Tanglewood Festival and the BBC Proms.

A Comprehensive Guide to Centennial Releases Thus Far

Many record labels and artists have marked the centennial by releasing remastered albums and box sets of Leonard Bernstein's historical recordings, as well as new interpretations of his works.

Jamie Bernstein's memoir "Famous Father Girl" NOW AVAILABLE

Jamie Bernstein, daughter of revered composer/conductor Leonard Bernstein offers a rare look at her father on the centennial of his birth in a deeply intimate and broadly evocative memoir. In Famous Father Girl, Bernstein mines the emotional depths of her childhood and invites us into her family's private world. Deeply moving and often hilarious, Bernstein's beautifully written memoir is a great American story about one of the greatest Americans of the modern age.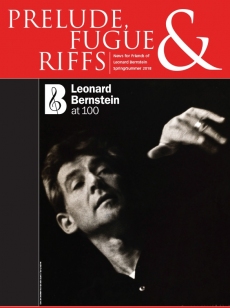 Browse the current and past issues of our newsletter, Prelude, Fugue & Riffs!
Monday August 20, 2018
1:30 pm
Alice Busch Opera Theater, Cooperstown, NY, United States
5:00 pm
Glimmerglass Festival Pavilion, Cooperstown, NY, United States