Latest News
The Library of Congress turns 220! #LOC220
Posted April 24, 2020
THE LIBRARY OF CONGRESS TURNS 220! #LOC220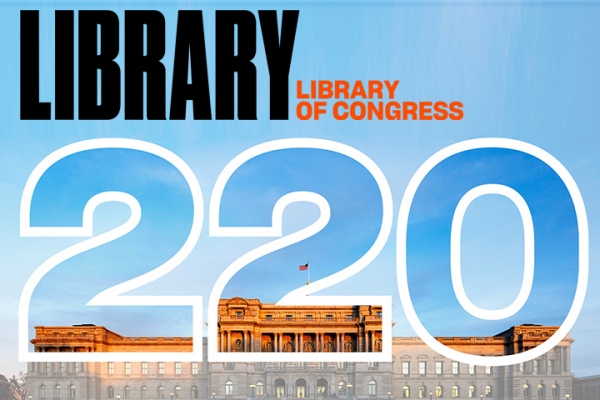 Join us in wishing the Library of Congress a happy 220th birthday! Over the course of two centuries, the LOC has gone from a humble collection of a few thousand volumes, donated by and purchased from notable early-Americans including Thomas Jefferson, to a vast collection of materials that tell the story of individuals who shaped American history, including Leonard Bernstein himself.
To celebrate #LOC220, the Library has created educational resources for parents and children, as well as launched a new app for phone and tablet that make it more convenient to browse and search their collection from the palm of your hand.
Leonard Bernstein began gifting manuscripts to the Library in the early 1960s. Many gifts over the years, particularly the early 1990s and in 2008, form the Leonard Bernstein Collection, which continues to not only document the career of an extraordinary 20th-century American, but also illuminate the transformations and upheavals of the times he lived in. In addition to his manuscripts and voluminous correspondence, there are also recordings, videos, film footage, and thousands of photographs.
Bernstein's career coincided with the rise of television; he was among the first to perceive the power of this new medium to communicate the joy of music to millions of viewers. It's very much in keeping with Bernstein's generosity of spirit to make materials from his archives available to the greatest number of people — which is the essential purpose of the Library's digital program.
We encourage you to celebrate the Library's historic milestone next week by browsing the Leonard Bernstein Connection.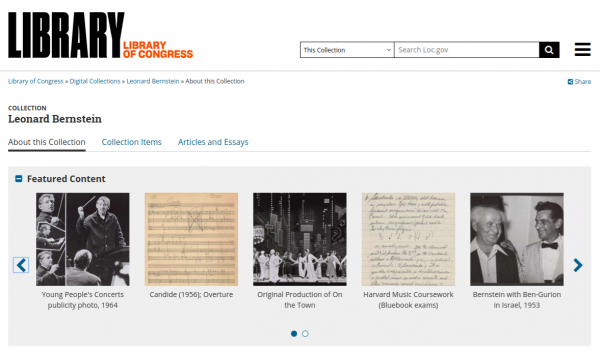 Read more about the history of the Library of Congress