Latest News
From the Archives: MASS at the Vatican
Posted April 25, 2022

MASS at the Vatican
by Boris Brott
(from the Fall/Winter 2009 Issue of Prelude, Fugue & Riffs)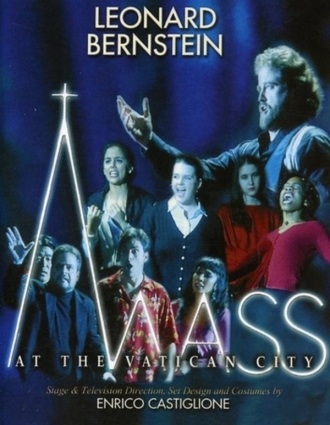 In February of 2000, I was invited to conduct Leonard Bernstein's MASS at the Vatican. I was excited. I was very close to this work, having served as Bernstein's assistant at the New York Philharmonic while he was writing it.
After its premiere in 1971, the Catholic Church criticized the commentary "tropes" Bernstein interjected between the movements of the Latin Mass, proclaiming them blasphemous. He was deeply hurt. He saw MASS as an expression of his ultimate rationalization of faith through doubt. Bernstein had just experienced and had been very moved by the Talmudic process of helping his son Alexander with instruction for his Bar Mitzvah. He couldn't understand why the Church did not view MASS as he intended.
So this invitation, nearly 30 years after MASS' birth, offered a magnificent opportunity to realize my mentor's dream: MASS at the Vatican!
Simple? Well, not really. I called Harry Kraut, Bernstein's manager, who at first was delighted. We spent over an hour on the phone. I went to bed with the music I knew so well ringing in my ears.
Next morning, a phone call from Harry. No, you cannot do it! Why? Well, in truth, a book could be written about how it eventually came to pass. But let me cite one example: how do you break a chalice and a monstrance and spill the wine (blood of Christ) on the ground ... in the VATICAN?
The problems melted away. Costumes and the rending of the Celebrant's robes - permitted. No dancing, but natural movement to the music - permitted. No properties (chalice, monstrance) allowed but the actions could be mimed.
An excellent cast, assembled around Celebrant Douglas Webster, rehearsed at The Juilliard School and flew to Rome where the 14,000 seat Aula Nervi was transformed into a theatre. The altar steps became a multi-level stage, the giant sculpture of Christ ascendant became part of the staging.
At the performance Bernstein's spirit was in the room - you could feel his presence. 400 red-zuchetted Bishops filled the front rows. The 14,000 invited guests sat in reverence as Douglas began Simple Song and we were under way.
At the Papal audience the following morning, Pope John Paul II took my hand in his and told me it was important this work was performed at the Vatican. " It is a confirmation of faith through life's great trials" he said with the intensity of his cornflower blue eyes. As he said this, I thought of Bernstein and knew at last this great MASS had assumed its rightful place at the Vatican.
###
Boris Brott is the founder and artistic director of the National Academy Orchestra of Canada and the Brott Music Festival, both based in Hamilton, Ontario. He is the founding Music Director and Conductor Laureate of the New West Symphony in Los Angeles, and Artistic Director and Conductor of the McGill Chamber Orchestra in Montreal.