Latest News
New York Philharmonic Digital Archives Turns 10!
Posted October 13, 2021
Celebrating the 10th Anniversary of the Leon Levy Digital Archives
by Gabryel Smith
(as printed in the Fall/Winter 2021-2022 issue of Prelude, Fugue & Riffs)

This year the New York Philharmonic celebrates the tenth anniversary of the Leon Levy Digital Archives. The Digital Archives launched in 2011 with Leonard Bernstein's marked scores, correspondence, photographs, and programs as its cornerstone collection. Ten years on, the Bernstein trove continues to be the focus of many researchers around the world. Here are ten of our favorite LB items from the online collection.
To learn more about each of the items listed, click on the corresponding titles. To see the complete Digital Archive, click on archives.nyphil.org.
1. PETER GRIMES : LEONARD BERNSTEIN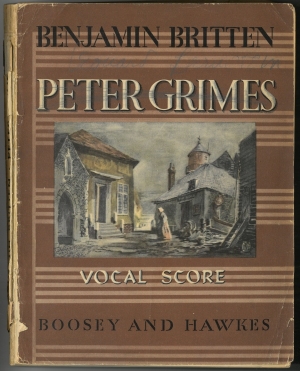 Most of LB's scores show layers of markings and annotations that denote years of interpretive study. This one, however, which LB used at Tanglewood in 1946 for the work's American premiere, is unmarked except for the cover: "Peter Grimes" crossed out and "Leonard Bernstein" penciled in. Was LB identifying with the misfortunes of the misunderstood fisherman of the title role? There are many possible interpretations. In any case, it shows an early example of LB's penchant to probe deeper into how music becomes personal and relates to the present.
2. MAHLER GROOVES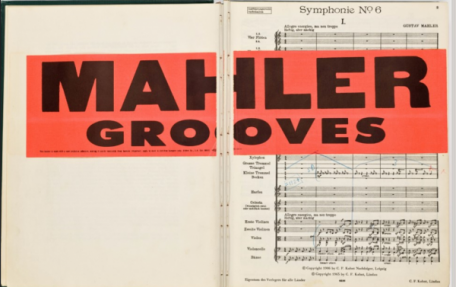 In what has become one of the most recognizable images in the Digital Archives, the opening measures to Mahler's Sixth are covered by a neon red bumper sticker--courtesy of the Los Angeles Mahler Society-- which LB pasted over the ominous march in the lower strings and timpani. One could consider it a pep talk or a light-hearted "pick me up" before taking the emotional plunge into one of Mahler's darkest works.
3. RESPONSE TO A SUBSCRIBER, 1966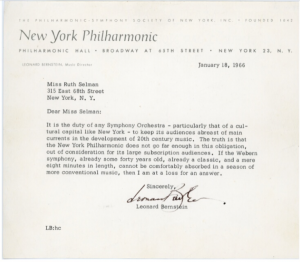 Not often do New York Philharmonic Music Directors take the time to respond personally to letters from subscribers. However, one would expect nothing less from LB in his response to this listener complaining about Webern's Symphony op. 21. While our inboxes still receive similar messages today, LB's sense of duty to education and unfamiliar music was not as prevalent among maestros then as it is now. We have him to thank for that.
4. 'XMAS IN BERLIN, 1989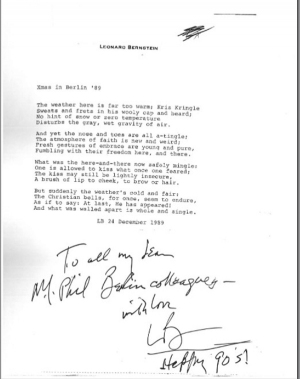 LB's Beethoven Ninth performances at the fall of the wall have become legendary examples of how music can transcend politics. Amid all the activity, one can picture LB on his day off between East and West concerts taking time to write this poem for his Philharmonic colleagues who joined with German, French, British, and Russian players in an international ensemble. Our musicians still treasure this note as one of the last in LB's long career with his orchestra.
5. THE AMERICAN CONDUCTOR'S VISION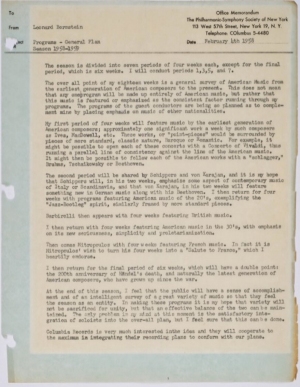 In 1958 Leonard Bernstein outlined the repertoire for his first season as Music Director in less than a page, submitting it to the Philharmonic's Music Policy Committee for review. American music is a central theme, fitting for the Philharmonic's first American-born Music Director.
6. LB AND ORIN O'BRIEN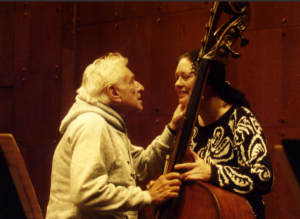 Lenny was known for the warmth and affection he showed the Philharmonic musicians, who still remember him as family. Here he is with bassist Orin O'Brien, the first woman musician in the Philharmonic's modern history, and whom Lenny hired in 1966. O'Brien retired in 2021 as the orchestra's senior tenured member.
7. RAVEL PIANO CONCERTO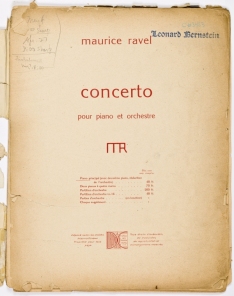 While most of scores in the Digital Archives show LB the conductor, this one shows LB the pianist and the student. The tattered cover, rehearsal dates (Apr. 27, 3pm, sharp), the fingerings in both the solo and orchestra reduction, are marks any college music student would recognize, sympathize with, and learn from.
8. LENNY THE COLLECTOR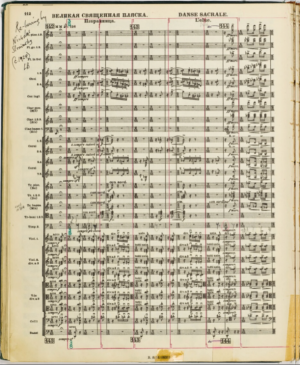 LB's sentimental side shows in his attachment to possessions. Whether cufflinks, composing pencils, or scores, it gives us archivists great material to work with. In some lucky instances, like the inside cover of this Stravinsky Rite of Spring score, LB documents where an item came from. That this copy was Koussevitsky's explains the re-barred measures in the Sacrificial Dance. With help from Nicolas Slonimsky, Koussevitzky was able to come up with a version that avoided constant meter changes, lending to a more straightforward conducting pattern. LB conducted this modified pattern as inherited his from mentor, even as the piece grew in popularity and orchestras became familiar with Stravinsky's constant meter changes.
9. ANDRÉ WATTS—THE YOUNG PERFORMERS YPCS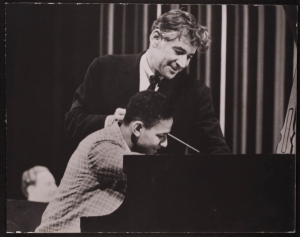 It is well known that one of LB's signature achievements as Music Director was to telecast the Young People's Concerts, the first series of its kind to appear on TV. Of all the programs to come from that series, of particular note are those LB called Young Performers—conductors, instrumentalists, and vocalists of all backgrounds whose careers were launched by their Philharmonic debuts. One of those performers (pictured above), was the 16-year-old pianist Andre Watts, whose 1963 performance was the first of 102 with the Philharmonic, and counting.
10. "MY GREATEST OPPORTUNITY"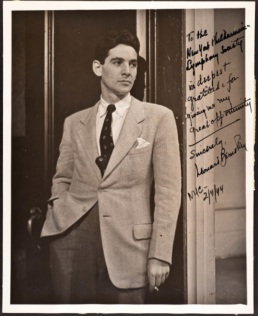 One cannot compile a list of LB-New York Philharmonic highlights without including his legendary conducting debut, where the young assistant was called on last-minute to substitute for an indisposed Bruno Walter. It just so happened that the performance fell on a Sunday, meaning it was heard not only in Carnegie Hall but by millions on the radio nationwide. This signed headshot—a tradition for conductors making their Philharmonic debuts—is kept with hundreds of others in a collection that dates from the 19th century up to the present. No debut stands out quite like Lenny's.
Gabryel Smith is the Director of Archives and Exhibitions at the New York Philharmonic.