Latest News
From The Archives: The Quiet Legacy
Posted February 16, 2023
The Quiet Legacy
by Craig Urquhart
First published in the fall of 1996, A Quiet Legacy explores the various philanthropic contributions made by Leonard Bernstein, including those in honor of his wife, Felicia Montealegre Bernstein. Naturally, a few things have changed over the years. The Beta Fund has evolved into the currently thriving Artful Learning teaching model. A few projects have been replaced by new ones, and some have engendered new honors; for example, the Schleswig Holstein Music Festival, which Bernstein co-founded, now bestows an annual prize in his name. It is heartening to know that after so many years, "The Quiet Legacy" continues its good works.
(as published in the Autumn 1996 issue of Prelude, Fugue & Riffs)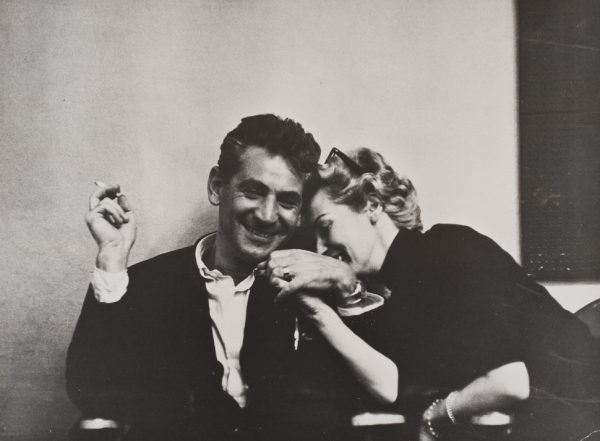 Leonard and Felicia Montealegre Bernstein, December 1956. Photo by Dan Weiner. Courtesy of Sony Classical.
Leonard Bernstein shared his prodigious gifts with the public in a most forthright fashion. When it came to philanthropy, he gave without fanfare. Few people know about his scholarship funds for talented and deserving students.
In 1961, Bernstein set up the first two Leonard Bernstein Scholarship Funds at Brandeis Un iversity and Harvard University. Mr. Bernstein gave extensively to these funds throughout his life and they have been supplemented by other donors. Hundreds of thousands of dollars have been distributed at Harvard alone to more than 83 students concentrating in music, including cellist Yo-Yo Ma.
Bernstein also had strong emotional ties to other educational institutions. He conducted his first concert at the Tanglewood Music Center in Lenox, MA in 1940, and his last fifty years later. In 1962, he established Tanglewood's Leonard Bernstein Fellowship; later on the The Felicia Montealegre Bernstein Fellowship was established. More than 200 young people have studied in the hills of western Massachusetts thanks to these grants.
An early Leonard Bernstein Fellow at Tanglewood, composer and conductor Oliver Knussen now teaches there. The list of Knussen's fellow Fellows is too long to enumerate, but composer Michael Torke, conductor Marin Alsop, and soprano Cheryl Studer are among them.
After his wife's death in 1978, Bernstein established three Felicia Montealegre Bernstein Scholarship Funds in theater studies: at The Juilliard School, Columbia Un iversity and New York University. At Juilliard alone, 47 students have benefitted - studying acting, play-writing, directing, and producing. Columbia and NYU students have also received these fellowships.
In 1987, Mr. Bernstein received the Siemens Prize, a generous award established by the Ernst von Siemens Foundation. He gave additiona l funds co his already established scholarshipfunds at Harvard, Brandeis, Tanglewood and a major portion to the Indiana Unive rsity School of Music to establish a scholarship fund there. "During the 1980-81 school yea r Maestro Bernstein spent two months here working on his opera, A QUIET PLACE," reminisces Charles H. Webb, dean of the music school. "He made an enormous impact on faculty and students alike. We are grateful now for this assistance that continues."
In 1990, the Japan Art Association awarded Bernstein their Praemium Imperiale, with a cash award of $100,000. Bernstein used these funds to create the Bernstein Education Through the Arts (BETA) Fund and its affiliate - the Leonard Bernstein Center for Education Through the Arts in Nashville, TN.
After Bernstein's death, his family approved two further lenges of inclusion and collaboration. The head of the Eugene Opera, Frank Graffeo, successfully directed, integrating the tiedyed of Eugene with the stained glass of the cathedral. Doug Leonard Bernstein legacies. In London, the organization "Youth and Music" is collaborating with the London Symphony Orchestra and the Young Friends of Covent Garden, to create the Leonard Bernstein Programme for Young People - performances supplemented with talks and films. The Bernstein Programme helps keep ticket prices affordable.
In the Netherlands, the Leonard Bernstein Stichting supports promising young Dutch musicians' enrollment at American music schools. The fo undation's selection panel - soprano Roberta Alexander, the former concertmaster of the Concertgebouw Orchestra Theo Olof, conductor Robert Kieft, and others - will announce the first winner of a Leonard Bernstein Stichting stipend in December.
Leonard Bernstein's family continues the work of the BETA Fund, as well as many other institutions established by him or in his memory, such as the Pacific Music Festival and the Jerusalem International Music Competitions.
In many ways the spirit of Leonard Bernstein lives on. But his love of learning and his quiet support for individuals will surely be among the most enduring.
Craig Urquhart serves The Leonard Bernstein Office as Senior Consultant, Public Relations and Promotion.