Latest News
West Side Story & Candide
Posted June 22, 2023
West Side Story & Candide
by Francesca Zambello
In some ways it is amazing that Bernstein composed West Side Story and Candide simultaneously. West Side Story's score is so rooted in the Americas, while Bernstein himself called Candide a love letter to European forms like the gavotte, mazurka, polka, schottische, waltz. In addition to the musical balancing act, Bernstein had the audacity to take on two complex, canonic texts—a tragedy by Shakespeare and a brilliant satire by Voltaire—and turn them into popular musicals.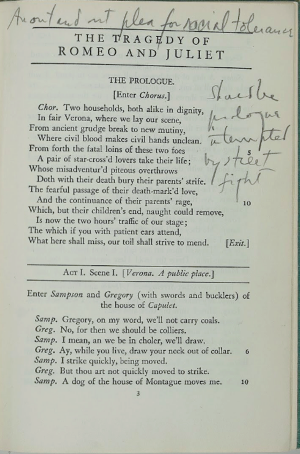 This is Bernstein's copy of Shakespeare's Romeo and Juliet, with his annotation "An out and out plea for racial tolerance" at the top of the first page. William Shakespeare. Romeo and Juliet. Boston: Ginn and Co., 1940. Ed. by George Kittredge. Leonard Bernstien Collection, Music Division of The Library of Congress.
But in some ways, it's not so amazing at all. Bernstein scrawled "an out and out plea for racial tolerance" across the first page of his copy of Romeo and Juliet while preparing West Side Story; Voltaire's entire literary career could be summed up in the same way. As theater artists, we are in the business of radical empathy. Our daily work is trying to understand what it means to stand in another person's shoes—how to bring those struggles to life—so perhaps that is why these two works, with tolerance at their core, mean so much to us. Each new cast gets to grapple with these questions throughout the process. I just recently directed West Side Story for the Lyric Opera of Chicago, where it performs during June. We originated the production in 2017; since then, it has been seen in various cities, all at opera companies featuring a mix of music theater and opera performers. This summer, the Glimmerglass Festival revives my production of Candide, which will perform through August.
The journey with both of these productions, which originated before the pandemic, has been so interesting to me. Both shows make their points by holding up a mirror to a society that has a lot of work to do. Both shows contain some shocking scenes—intentionally so. Among audiences (and even artists) encountering these works for the first time, sometimes there is an immediate, visceral reaction— "I don't want to see that!" People are horrified to see characters whose behavior exposes racism or misogyny, whether insidious or overt. But I believe the horror is the point. All too often, we shy away from discomfort, and sweep problematic behavior under the rug. "Oh, s/he's all talk." "It was a different time." "We've come so far." "Those actions aren't representative of the whole group." "Why can't we focus on the positive?"
When Anita is assaulted by the Jets in West Side Story, Jerome Robbins' choreography is stylized rather than graphically realistic, but the violence of the act is unmistakable. It is hard to watch, but I believe it is important to witness and reflect on what happens when "nice young men" allow themselves to be overtaken by a pack mentality. Only when we feel the horror can we begin to think about change.
Cunegonde's first big aria in Candide is a gorgeous, glittering coloratura showpiece, and it's easy to be distracted from what the character is telling us. But "Glitter and Be Gay" tells the story of a young woman who is forced to sell her body to survive. It's important to me that we are clear about this situation, not in spite of the fact that it's horrifying, but because it's horrifying. We should feel her pain and rage. Our first Cunegonde in this production was Kathryn Lewek, who has sung Mozart's Queen of the Night all over the world, and she brought all the same wounded rage to her unforgettable embodiment of Voltaire's heroine.
Bernstein specifically intended West Side Story to speak to the politics of race in America at his time. His message is more vital now than ever. Although America is a country of immigrants, we continue to struggle with issues around immigration and migration, which makes West Side Story as resonant today as it was when it was first written. The musical landed on Broadway in 1957, just as the Civil Rights Movement was gaining steam and we were collectively examining some of the divisions in our country. In many ways, we have moved forward since that time. But even in the time from the debut of this production until now, I feel I've witnessed the growth of hatred and division in our country. There are laws in place against certain kinds of discrimination, but especially with the rise of social media, I'm concerned that we are becoming more, not less, our own version of "gangs" in outlook. I think the story of two warring "gangs" challenges all of us to look at how we define and marginalize "the other." Perhaps we find it easy to engage with people of different cultural backgrounds. But what about differences in education? religion? economic means? politics?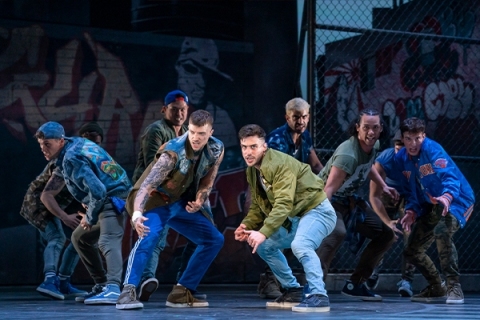 West Side Story at Chicago Lyric Opera, 2023. Photo by Todd Rosenberg, courtesy of Chicago Lyric Opera.
The dangers of group divisions have been exacerbated by the increasing accessibility of firearms in this country, which has resulted in the deaths not only of those who take it upon themselves to represent and defend a particular "gang" but also of countless innocents caught in the crossfire. The creators' vision of America is hardly a utopian one, but they surely never imagined a landscape like today's, in which mass shootings are a regular occurrence in every kind of community, from an urban nightclub to a suburban schoolyard to a shopping mall.
The presence of a gun in the final moments of West Side Story drastically changes the dynamic in a way that is immediately recognizable. Maria's final speech is almost unbearable to witness, in part because it is so easy to empathize with her state of mind. "How do you fire this gun, Chino? Just by pulling this little trigger? How many bullets are left, Chino? Enough for you? ….and you? All of you? We all killed him; And my brother, and Riff. I, too. I CAN KILL NOW, BECAUSE I HATE NOW."
It is horrifying to see the transformation of this young woman. She goes from being willing to sacrifice everything for love to being willing to pick up a gun and point it at another human being. This scene in West Side Story holds up a mirror to the devastating path we are on. What will finally allow us to muster the collective will to change our course? I don't know the answer. But I do know that we cannot afford to turn a blind eye. We must keep telling these stories, and perhaps someday we will be able to "make our garden grow" in that peaceful "somewhere" that Maria and Tony reach for.
Internationally recogized opera and theater director Francesca Zambello has served as the Artistic Director of Washington National Opera at the Kennedy Center since 2013. She is also the Artistic & General Director of the Glimmerglass Festival, Emerita.