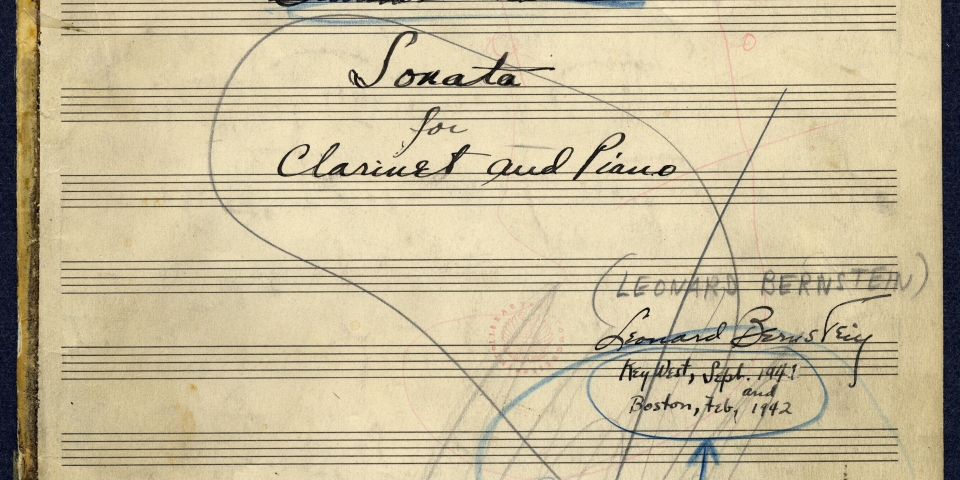 Overview
The Sonata for Clarinet and Piano was Bernstein's first published composition. This work reflects the youthful enthusiasm of the time: walking basses, pervasive syncopations and melodic flourishes make this a fun and exciting work. At clarinetist Richard Stoltzman's suggestion, Bernstein's long-time orchestrator Sid Ramin has produced a lean and spare orchestration for strings and percussion.
Bernstein wrote in a letter to Aaron Copland (15 W. 52, New York) in the Spring of 1943:
"The little Hargail Music Co. wanted to publish the Clarinet Sonata. Out of professional courtesy I showed it first to Warner's, and they knocked me over by loving it, and insisting on publishing it. I was downhearted, since Hargail wanted to make a commercial recording of it. Now Hargail is offering me all sorts of fantastic royalty rates if I'll give it to them, and says that they will make the recording anyway! A labor of love, if I ever heard one. But Warner's points out that they, as a large firm...can do so much more for it than can a little thing like Hargail...Matters are now suspended by a hair.
Warner's presented me with a five-year contract! I'm taking it to a lawyer today to find out what it says. It looks like my life that I'm signing away. But it adds to my little old salary a substantial weekly advance on future mythical royalties, which increases each year."
Details
(1942) 10 min
World Premiere:
April 21, 1942. Institute of Modern Art, Boston, MA, United States | David Glazer, clarinet / Leonard Bernstein, piano
(1942, arr. 1994) 11 min
World Premiere:
July 23, 1994. Sapporo, Japan | Richard Stoltzman, clarinet / Pacific Music Festival Orchestra / Michael Tilson Thomas, conductor
Scoring
Solo clarinet-perc(1)-piano-strings
Version Notes
arranged for clarinet and orchestra by Sid Ramin
---
Purchasing Licensing Information
To perform Sonata for Clarinet & Piano, please contact Boosey & Hawkes. For general licensing inquiries, please click here.
Media
Cover of the Manuscript of Bernstein's Sonata for Clarinet and Piano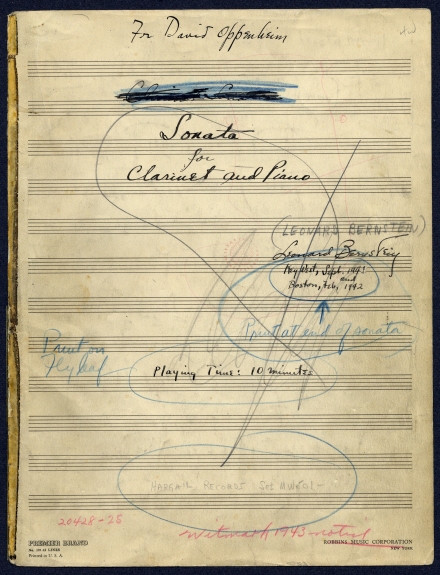 Library of Congress