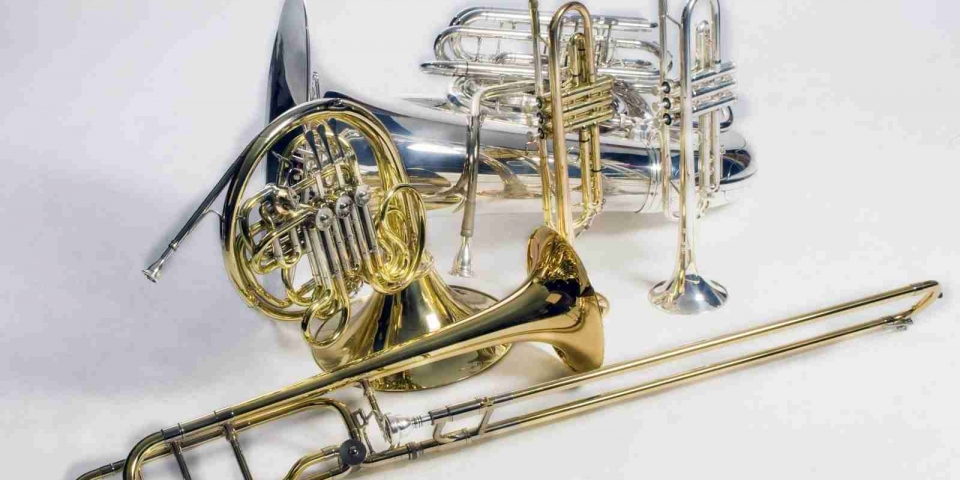 Overview
Bernstein's final composition, each of the five movements is dedicated to a choreographer-friend of his:
I. Dancisca, for Antony (Antony Tudor)
II. Waltz, for Agnes (Agnes de Mille)
III. Bi-Tango, for Mischa (Mikhail Baryshnikov)
IV. Two-Step, for Mr. B (George Balanchine)
V. MTV, for Jerry (Jerome Robbins)
The piece was premiered by Empire Brass, at American Ballet Theater's 50th-anniversary gala, at the Metropolitan Opera House on January 14, 1990.
NOTES
Dance Suite is the last work to be written, mostly in late 1989, by the composer. It was premiered as part of the 50th Anniversary Gala of American Ballet Theater at the Metropolitan Opera House, New York City, on January 14, 1990. This light-hearted divertissement was not danced, however, even though that was the original intention of the ballet company. A choreographer began work on it, but apparently it was felt that the movements were too short for danceable development. It was presented instead on stage, in front of the traveller curtain, as an independent instrumental work. The performers were the Empire Brass Quintet, to whom the Suite is dedicated "with affection:" Rolf Smedvig and Jeffrey Curnow, trumpets; Eric Ruske, horn; Scott Hartman, trombone; and Sam Pilafian, tuba. The first movement alone was doubled simultaneously with the Quintet members by the ballet orchestra in the pit.
Each movement is dedicated to a choregrapher-friend: Antony Tudor, Agnes DeMille, Mikhail Baryshnikov, George Balenchine and Jerome Robbins. More than a piéce d'occasion, there are other layers of meaning in the work since each movement had its origin in other formats. These are mostly anniversary pieces composed for family and friends.
I. Dancisca, for Antony (Antony Tudor)
The portmanteau work DANCISCA is the title for what was originally a piano piece. Written for the composer's granddaughter, Francisca Anne Maria Thomas, "For my Rhymy Girl, with thanxgiving and love, Tata, " it was completed "21 Nov. '89."
II. Waltz, for Agnes (Agnes de Mille)
The ironic WALTZ, which sometimes is in 3/4 time (alternating with common time) has wry overtones. Dated "22 Nov. '89," it was conceived as "The NEA Fovever March," after the composer refused the National Medal of Arts from President Bush. A grant from the National Endowment for the Arts to Artists Space, a nonprofit gallery in New York City, had been revoked because of its AIDS exhibit, "Witnesses: Against Our Vanishing." This was unacceptable to Mr. Bernstein, whose lyrics for the March were:
Everyone got a medal but Bernstein,
The President gave twelve medals,
Not to Bernstein.
Well, actually there showed up only ten to toast,
'Cause one of the dozen couldn't make it,
And the other was just a ghost.
But ten out of twelve is better than most,
And the President was a very lovely host.
So everyone had a great time but Bernstein.
The Lord be praised!
III. Bi-Tango, for Mischa (Mikhail Baryshnikov)
The bitonal BI-TANGO is based on a "Birthday Serenata" composed for a violinist friend, Paul Woodiel, "17 Nov. '89" with words in Spanglish for "Señorito Pablito."
IV. Two-Step, for Mr. B (George Balanchine)
The TWO-STEP was at first "A Spiky Song," written for the composer's grandson, Evan Samuel Thomas: "Two weeks old, from his loving Granddaddy, 28 Oct. '89." ("Spike" was the name given to Evan prior to his birth by his father, David Thomas.) Its words include:
Hooray, ni-hao, Little Spike.
So glad, thank God,
Didn't call you Mike(ae)l, Stephen, Paul,...
Hip, hip, loud cheers, little tyke.
Welcome, warning:
Livin' ain't a bike ride,...
Hooray. Thank heaven for Evan.
V. MTV, for Jerry (Jerome Robbins)
MTV is in part a tribute to the ubiquitous Music Television. The middle section was also a song, written for the mother of the Bernstein grandchildren, Jamie Bernstein Thomas: "7.II.86, for Jamie, to be continued... Love, LB." This one was inspired (if that is the appropriate word) when Mr. Bernstein watched an episode of "Miami Vice" on TV. The composer's lyrics for it were loosely based on actual dialogue. The words are found partly in the manuscript, and have been in part recalled by a family friend, the conductor Michael Barrett, as:
He said: You wash my back and I'll wash yours.
With the baby lyin' in a shoe-bag on the floor
So she stabbed that rapist crime for crime.
He was a small-time stand-up comic anyway,
Very small-time.
Now ain't that nice?
Miami Vice.
-note by Jack Gottlieb
© Copyright 1992 by Jack Gottlieb
All rights reserved.
Related Works
Brass Music

Details
(1989) 6 min
World Premiere:
January 14, 1990. Metropolitan Opera House, New York, NY / American Ballet Theatre / Empire Brass
Scoring
brass quintet (2 trumpets, 1 French horn, 1 trombone, 1 tuba)
---
Purchasing Licensing Information
To perform Dance Suite, please contact Boosey & Hawkes. For general licensing inquiries, click here.
Media
Dancisca Sample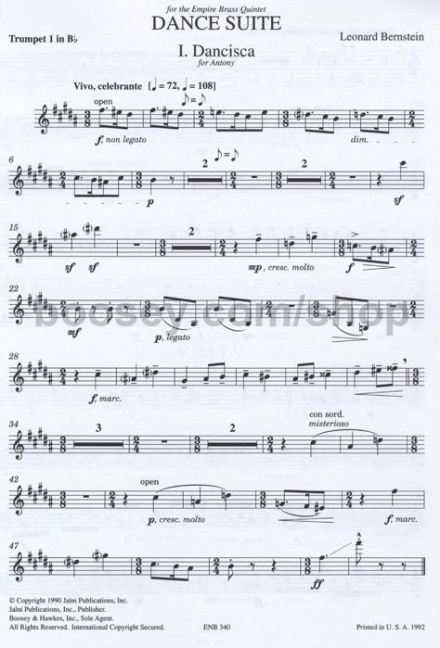 Dance Suite: I. Dancisa, for Anthony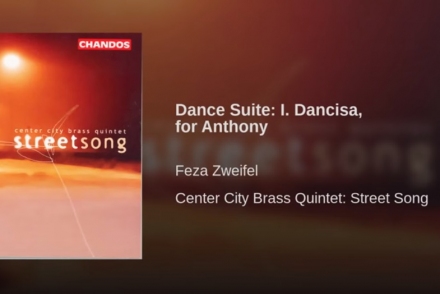 Center City Brass Quintet: Street Song