Latest News
Happy 90th Birthday, Stephen Sondheim!
Posted March 20, 2020
Today we wish a very happy 90th birthday to Leonard Bernstein's beloved friend, colleague, and perennial word game sparring partner, HEMPEN HEDONISTS (Stephen Sondheim)!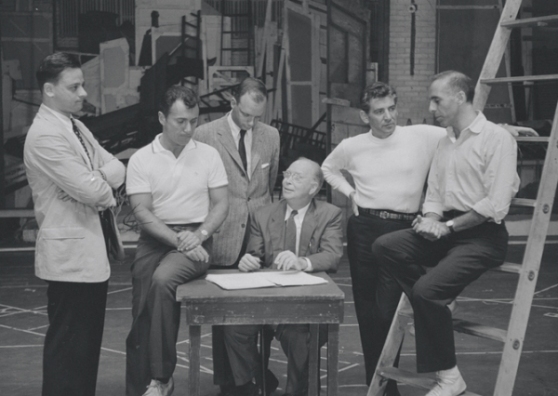 [Stephen Sondheim, Arthur Laurents, Hal Prince, Robert E. Griffith, Leonard Bernstein, and Jerome Robbins in rehearsal for the stage production West Side Story]
Bernstein and Sondheim met in the fall of 1955, when Sondheim joined the ccollaborative team as the lyricist for "West Side Story." Sondheim, then only 25 years old, was invited to a New York party, where, not knowing a soul, he sparked a conversation with the only familiar face, Arthur Laurents. Laurents mentioned he was working on a musical version of Romeo and Juliet and invited him to audition for Bernstein, because they needed a lyricist. In his written log of the creation of West Side Story, Bernstein wrote about Sondheim: "What a talent! I think he's ideal for this project, as do we all. The collaboration grows." (New York, 14 Nov., 1955).
Sondheim wrote this letter to Bernstein on September 26, 1957, the date of the New York premiere of the show:
"West Side Story means much more to me than a first show, more even than the privilege of collaborating with you and Arthur [Laurents] and Jerry [Robbins].... I don't think I've ever said to you how fine I think the score is, since I prefer kidding you about the few moments I don't like to praising you for the many I do. West Side Story is as big a step forward for you as it is for Jerry or Arthur or even me and, in an odd way, I feel proud of you. May West Side Story mean as much to the theater and to people who see it as it has to us."
As they say, the rest is history.
Sondheim and Bernstein maintained a close friendship through the rest of Bernstein's life. The two corresponded frequently, often writing anagram poems to one another.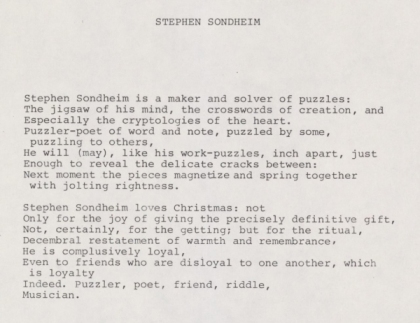 [Acrostic Poem for Stephen Sondheim by Leonard Bernstein, ca. 1958]
We wish Stephen a wonderful, happy, and healthy year ahead!