Latest News
National Symphony Orchestra to broadcast All-Bernstein program
Posted August 27, 2020
Through September 25, the National Symphony Orchestra presents a digital series of performances released bi-weekly. Every other Friday, a new concert from our archive of live full orchestra broadcasts created in partnership with Medici.tv will be made available for on-demand streaming free of charge. Each program will be accessible for 30 days – from 8 p.m. ET except as otherwise listed.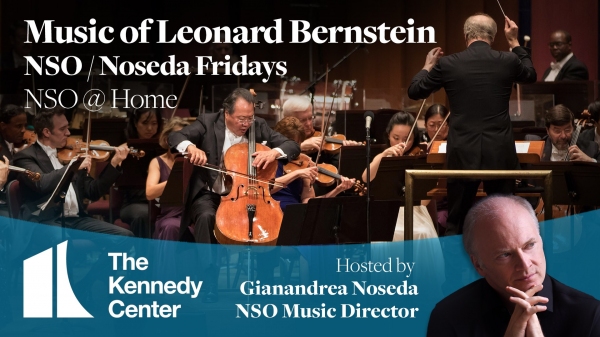 On Friday, August 28, 2020, at 8:00pm, they will be presenting an all-Bernstein program from 2017!
Watch on Facebook
Watch on kennedy-center.org
Program Info:
National Symphony Orchestra
Gianandrea Noseda, conductor
Yo-Yo Ma, cello
BERNSTEIN: Candide – Overture
BERNSTEIN: Three Meditations from Mass
BERNSTEIN: West Side Story – Symphonic Dances
In his inaugural concert as the NSO's seventh music director, Gianandrea Noseda leads cellist Yo-Yo Ma in a grand tribute to the late Leonard Bernstein that includes the composer's Overture to Candide, Three Meditations from MASS, and Symphonic Dances from West Side Story.