Latest News
Leonard Bernstein and Washington, DC
Posted October 19, 2020
LEONARD BERNSTEIN AND WASHINGTON, DC
Works, Politics, Performances
Edited by Daniel Abraham, Alicia Kopfstein-Penk, Andrew H. Weaver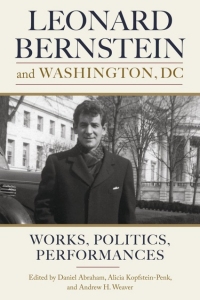 Bold new essays demonstrate how Leonard Bernstein influenced American culture, society, and politics through his conducting, composing, political relationships, and activism.
Composer, conductor, activist, and icon of twentieth-century America, Leonard Bernstein (1918-90) had a rich association with Washington, DC. Although he never lived there, the US capital was the site of some of the most important moments in his life and work, as he engaged with the nation's struggles and triumphs. By examining Bernstein through the lens of Washington, DC, this book offers new insights into his life and music from the 1940s through the 1980s, including his role in building the city's artistic landscape, his political-diplomatic aims, his works that received premieres and other early performances in Washington, and his relationships with the nation's liberal and conservative political elites. The collection also contributes new perspectives on twentieth-century American history, government, and culture, helping to elucidate the political function of music in American democracy.
The essays in Leonard Bernstein and Washington, DC, all newly written by leading authorities, situate this important American cultural figure in the seat of United States government. The result is a fresh new angle on Leonard Bernstein, American politics, and American culture in the second half of the twentieth century.