Latest News
New PBS Series "In Concert at the Hollywood Bowl" Premieres January 15, 2021 on PBS Stations Nationwide
Posted January 4, 2021
The new weekly PBS television program IN CONCERT AT THE HOLLYWOOD BOWL, a weekly music series produced in partnership between KCET and the Los Angeles Philharmonic Association. On May 13, the 2020 season of the Hollywood Bowl was officially cancelled for the first time in its 98-year history in an effort to protect artists, audiences and staff from the spread of COVID-19. The series, which aired in Southern California earlier this summer, will allow viewers nationwide to experience iconic moments from the LA Phil archives at the Hollywood Bowl. Six episodes featuring the "best of" live performances from the past 10 years at the Bowl's Summer Concert Series will be hosted by LA Phil's Music and Artistic Director Gustavo Dudamel.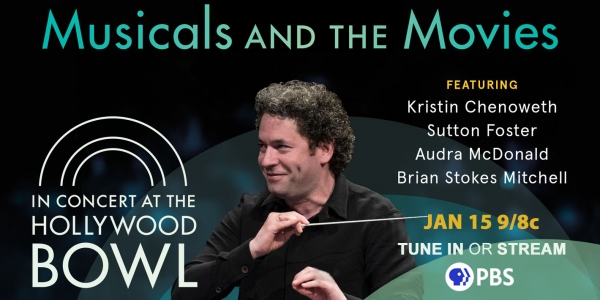 Dive into the love affair between Hollywood and Broadway in the first episode, "Musicals and the Movies," celebrating classic songs from Broadway musicals and classic cinema. Enjoy selections from Leonard Bernstein's love letter to New York City, "On the Town," performed by Sutton Foster and Brian Stokes Mitchell.
IN CONCERT AT THE HOLLYWOOD BOWL premieres on Friday, January 15, at 9:00 p.m. on PBS and on the free PBS app.