Latest News
From the Archives: Trouble in Tahiti
Posted June 28, 2021
TROUBLE IN TAHITI
by Humphrey Burton
(as printed in the Winter 1993 issue of Prelude, Fugue & Riffs)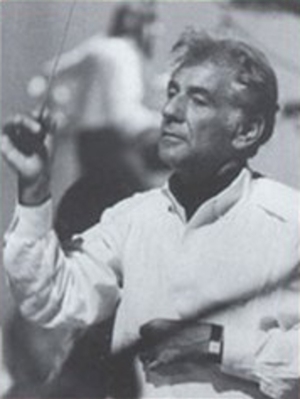 In the spring of 1951, after seven hectic years of conducting, Leonard Bernstein retired temporarily from the podium, determined to concentrate for at least a year upon his neglected composing career. He settled in Cuernavaca, Mexico, to write the libretto and music for Trouble in Tahiti, his first opera.
Work was interrupted by the death of Serge Koussevitzky. Bernstein returned to the United States, buried his revered master and took over the conducting school at Tanglewood. To conclude an eventful summer, on September 9th Bernstein married Felicia Montealegre Cohn.
The couple returned to Cuernavaca for an extended honeymoon and Bernstein resumed composing Tahiti, undeterred by the task of portraying a marriage in crisis while enjoying the first months of his own. Work went more slowly, however, until in January he reached an impasse, unable to devise a satisfactory conclusion to the opera.
Back in New York in February, he was persuaded by Irving Fine to complete the opera in time to conduct it for the first Brandeis University Festival of the Creative Arts on June 12, 1952. For a new production at Tanglewood two months later, Bernstein revised the libretto and composed a different finale. Conducted by Seymour Lipkin and directed by Sarah Caldwell, the opera was warmly received.
Bernstein was still not completely satisfied. Yet more modifications were made for a third performance, a live telecast on NBC-TV in November 1952. Directed by Kirk Browning, conducted by the composer and featuring cartoons designed by Saul Steinberg, the telecast was very popular. Trouble in Tahiti soon became a staple of college opera groups. It also had a brief run on Broadway. But apart from the opening night of a City Center production later in the 1950s, Bernstein did not conduct his opera again until 1973, when it was produced in England for London Weekend Television. For the occasion, Leonard Bernstein recorded an introductory interview, excerpts of which are reproduced below.
"Trouble in Tahiti's only forty minutes long. It's a short work but it is an opera in the sense that it's all sung, from beginning to end, except for one little passage of dialogue which is deliberately unsung. (...) It was meeting a challenge which I had set myself, to see if the American vernacular - both musical and linguistic - could be handled in something you could call an opera, but would not have the phoniness of operatic production. All the music derives from American vernacular roots, and so do the words. Under no circumstances should this ever sound or look like an opera in the conventional sense of the prima donna in despair or the tenor in a heroic moment. [Sam and Dinah] are the direct opposite of the usual operatic hero and heroine. They are an unhappily married suburban couple.
The roots of Trouble in Tahiti are in the American musical theatre, there's no doubt of that. In this I was not trying desperately to avoid anything that has to do with Jerome Kern or Gershwin. The only thing I tried to avoid was Italian or German operatic stock traditions and styles; Marc Blitzstein had an enormous influence on this. It's only forty minutes long. It has a very tiny cast, it doesn't try to tell a great, immense epic tale, and it is the only opera I've ever written to this day."
(Editor's note: this interview was given before the composer wrote A Quiet Place.)
###
Humphrey Burton was Head of Music and Arts for BBC Television and Artistic Director of the Barbican Arts Centre, London. He filmed many of the Maestro's educational programs, as well as numerous concerts with the Vienna Philharmonic. Burton is also the author of the celebrated Bernstein biography and has recently released his own autobiography titled In My Own Time: An Autobiography.
Photo: Leonard Bernstein conducting the studio orchestra for Trouble in Tahiti, 1973. Courtesy of London Weekend Television.