Latest News
In Memory of Mary Ahern (1922-2021)
Posted June 28, 2021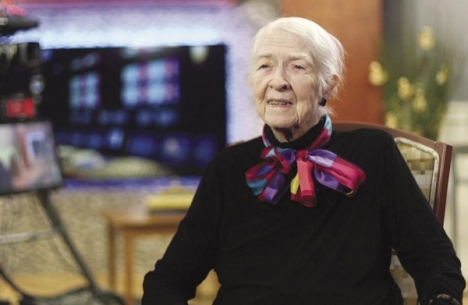 IN MEMORY OF MARY AHERN (1922-2021)
Mary Ahern was a television pioneer and one of TV's earliest producers. She produced features on music, history, and theater for the seminal cultural magazine series Omnibus, including Leonard Bernstein's seven historic programs. Jack Gottlieb, who was Bernstein's assistant for many years, shared his memories of Ahern in his book "Working With Bernstein," some of which are excerpted here:
Some of the raw facts about Mary Virginia Ahern are (1) she, as one of the Robert Saudek Associates, coproduced ten of television's Omnibus series and more than fifteen other programs featuring LB (Leonard Bernstein) with the New York Philharmonic; (2) she subsequently served as acquisition specialist at the Motion Picture Broadcasting and Recorded Sound division at the Library of Congress, where she dramatically helped to increase their holdings; and (3) she was the first curator at the Museum of Television and Radio in New York City.
But this is only her resume. As of this writing, now in her late eighties, Mary is the most fully engaged, politically savvy, flaming liberal Irish Catholic I have ever known. Here is one of various examples: In 1963 she set out to vote in a special election to oust New York City's Tammany boss Carmine DeSanio, which Ed Koch won by a very slim margin. Mary knew her vote was going to count, but at the sign-in desk she was not registered. She went ballistic: "I have proof where I live: do you have?" The "goons" called over a cop, but luckily Assemblyman Bill Passannante, passing by knew Mary, and she got in her vote.
Witty and chock-full of smarts, Mary entertains friends at the Cosmopolitan Club when she is in New York City. She broods over the leadership of her church and is a stickler for facts. So she knew how to take on LB when he was wrong about something. Engaged to help out on a Young People's Concert featuring Liszt's Faust Symphony and based on Goethe's classic poem, she challenged him that it was not a pact made between Mephistopheles and Faust, but a wager. Mary was bout to give up because he was so stubborn; but ultimately he went to the original German poem and Mary won that bet.
They had been introduced to each other by Broadway Producer Paul Feigay, who had produced On the Town and was an assistant producer to Robert Saudek on Omnibus. Feigay took Mary to meet LB at lunch, where she recalls his swallowing a raw egg. For LB's first Omnibus program, the justly famous one based on Beethoven's sketches for Symphony No. 5, she was the one who came up with the idea that the first page of the score be printed on the floor. Mary continued to work with LB on his six televised lectures at Harvard and with the Boston Symphony Orchestra providing illustrations. Theirs was a long-lasting and mutually trusting relationship.
-Jack Gottlieb
[Excerpts from Working With Bernstein, published by Amadeus Press used by permission the Estate of Jack Gottlieb.]
We invite you to watch this 2017 interview in which Ahern recalls working with Bernstein on Omnibus.