Latest News
A Chat with Maestro Chien Wen-Pin
Posted June 28, 2021
A Chat with Maestro Chien Wen-Pin
Craig Urquhart recently interviewed Taiwanese conductor Chien Wen-Pin to discuss Chien's career in Asia and Europe, the Pacific Music Festival in Japan, and Leonard Bernstein's Young People's Concerts.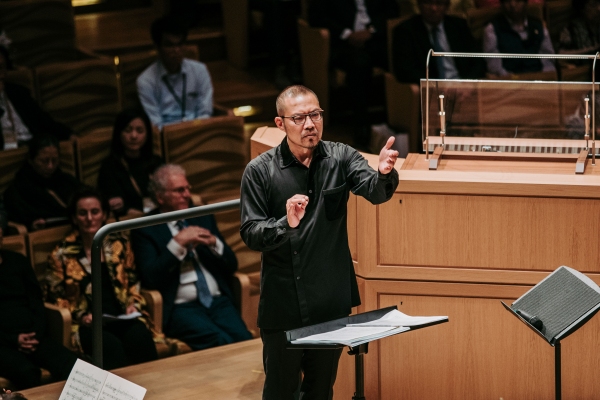 CRAIG: You were just starting out in 1995 when you participated in The Leonard Bernstein Jerusalem International Conducting Competition and received the Special Mention Award. But your connection to Bernstein goes even earlier than that, right?
WEN-PIN: My original connection was through attending the Pacific Music Festival, founded by the Maestro. I later became the Festival's resident conductor for 10 years, from 1998 to 2008.
CRAIG: You're currently the General Director of The National Kaohsiung Center for the Arts in Taiwan. How did that come about?
WEN-PIN: The Center opened in October 2018, but the preparation for the grand opening was already well under way in January 2015, when I was conducting in Düsseldorf. So, for those three years, I flew between Taiwan and Germany – and in fact I still have my job in Düsseldorf.
CRAIG: What goes on at the Center?
WEN-PIN: At the Center, I'm busy with planning programming, as well as conducting many of the programs. We also have a special program for education and participation, with several programs for the general public, as well as workshops for the students.
It is not always easy. Many of our young people are not used to learning about arts or performing arts, so we have to go to them and say: "Look, this opportunity is for you to learn. After that you can decide: okay, I like music, or I don't like music. But I don't want to see you giving up before you have tried."
CRAIG: We heard that you introduced the Leonard Bernstein's Young People's Concerts to the Taiwanese audiences. How did it go?
WEN-PIN: The audiences were very appreciative of the way Bernstein introduced the music, the way he breaks it down with examples: This is like this, this is like this -- and step by step, to bring the young listeners deeper into music. He makes it so easy to understand! That's why this series has been so successful. All these years later, we still rely on Bernstein's programs to introduce music to the general public.