Latest News
From the Archives: Today's MASS
Posted July 20, 2021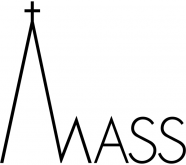 Today's MASS
by Tony Napoli
(as printed in the Spring/Summer 2009 issue of Prelude, Fugue & Riffs)
I believe in God. But does God believe in me?
As a seminarian, I was shaken to the core by these words and the all-enveloping theatrical experience of seeing Bernstein's MASS in 1973 at the Metropolitan Opera House. Ironically, critics then and now cite these lines when castigating the piece. But maybe times have finally caught up with MASS with today's sense of apprehension and insecurity, in government and finance as well as in matters of the spirit.
As a seminarian, I thought I could utilize my love of theater as a tool in preaching the Gospel. However, I soon realized this was not going to happen. And although I can't say attending MASS made me give up my vocation and pursue a career in the theater, it was certainly an expression of what I and many were feeling during those dark days of the 1970's. It was an era of questioning the establishment, anti-war protests, gas rationing, sexual freedom, and re-examining one's values. Sound familiar?
It is no coincidence that Bernstein's MASS has sparked renewed interest and has recently received numerous productions. People are still questioning their faith as atheism is becoming less and less a dirty word. Society is still leery of gay marriage and acceptance of non-traditional life styles - even if President Obama did include "non-believers" and gays in his inaugural speech. And of course, the war rages on in the Middle East. When I was struggling with my faith and sexuality, I found solace in MASS. The whole Credo sequence mirrored the turmoil I was going through that I could not express out loud or confide to any priest in a confessional.
Lord, I could go confess
Good and loud, nice and slow
Get this load off my chest
Yes, but why, Lord - I don't know.
MASS is not a passive event. Bernstein did not write a reflective requiem, but a theatrical tour de force that envelops the audience, confronting them with the disintegration of the Celebrant and his journey back to find solace and love. And of course, this being Lenny, it culminates musically and dramatically with the community finding hope and salvation in each other. It is a mass for believers and non-believers, fulfilling all of our human need for ritual and connectedness. Even the "outsider," the Celebrant, is included and given a place at the table.
MASS speaks to us today as eloquently as it spoke to me in 1973 when I left the priesthood and became an Off Broadway theater director. The music gave my soul a voice. I still sit in the darkened theater at the end of the piece with tears in my eyes, imagining Leonard Bernstein as the Celebrant speaking those comforting final words directly to me: "The Mass is ended; go in peace."
Tony Napoli is a native New Yorker, entrepreneur and writer. www.tonynapoli.com