Latest News
From the Archives: MASS in Virginia
Posted July 20, 2021
MASS in Virginia
By JoAnn Falletta
(as printed in the Spring/Summer 2010 issue of Prelude, Fugue & Riffs)
In the spring of 2010, the Virginia Arts Festival presented MASS, featuring the Virginia Symphony and Chorus. Inspired by the occasion, conductor JoAnn Falletta shared her reactions.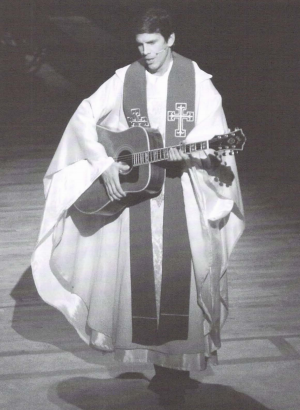 As I approached the great honor of conducting Leonard Bernstein's MASS, I was reminded so strongly of my personal experiences with this extraordinary man during my student days at Juilliard. The Maestro would come to the school to work with my four colleagues and me - occasions that were filled with the most exalted anticipation and the greatest fear as well. We were amazed to discover that this, the greatest American musician of the 20th century, was a gentle, encouraging conducting mentor. His kindness to us, coupled with his astonishing musical insights, made the sessions with him unforgettable: truly highlights of my artistic life.
Underneath the "larger-than-life" exterior of Leonard Bernstein; under the charm, the overwhelming magnetism, the confidence and love of life, one could occasionally glimpse a trace of sadness. From the distance of over two decades, I wonder now if that was an expression of an unresolved question, a yet-robe fulfilled hope, a yearning for something never expressed in words. As I studied his MASS, I was struck again by Bernstein's personal quest for answers. What is the meaning of life? Where is God? What is our time here on Earth about?
His MASS broaches those questions, and shocks us with honesty, with pain, with yearning for answers that are always beyond our reach. It echoes all the doubts and hopes we have had in our own personal lives, even while it is a searing portrait of a time of public turmoil and trouble in our country. MASS is powerful because it is a true expression of the composer's own search for meaning. Bernstein holds nothing back from us: he bares his soul and his pain; he draws us in, battered and confused, and wraps his arms around us to comfort us.
In many ways, Bernstein's MASS revealed to me even more powerfully his closeness to two composers he idolized. Like Gustav Mahler, Bernstein filled his MASS with the entire world: a huge and kaleidoscopic landscape of every emotion, simultaneously irreverent and profound. Like the solitary and deaf Beethoven, he finds in his personal anguish the flame that has sustained him throughout his life: the hope that music will help find the answers, that music will make us whole, that music will draw people together, that music can change the world.
And, in the final analysis, MASS illustrates so clearly that Bernstein - with all of his connection to the past, present and future - looms large as a unique artist, and the towering and unrepeatable figure of our musical time. No one but Leonard Bernstein could have written this piece. No one but Leonard Bernstein could have created such a vibrant and troubling mirror of our world. No one but he could have loved us enough to share his most intimate doubts, hopes and dreams with the untold millions who are the beneficiaries of his incomparable legacy.
JoAnn Falletta serves as Music Director of the Buffalo Philharmonic Orchestra, Music Director Laureate of the Virginia Symphony Orchestra, Principal Guest Conductor of the Brevard Music Center and Artistic Adviser of the Hawaii Symphony Orchestra and the Cleveland Institute of Music Orchestra.
Photo: John McVeigh, Celebrant, at Virginia Arts Festival. © Rachel Greenberg