Latest News
Honoring Debby King (1949-2021)
Posted November 16, 2021
Honoring Debby King (1949-2021)
"The Soul of Carnegie Hall"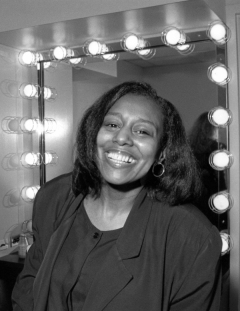 © 1995 Steve J. Sherman / Carnegie Hall
It takes years of "practice, practice, practice" to get to Carnegie Hall, but once there, you would find your way to the stage in the company of Carnegie Hall's artist liaison, Debby King.
Known as "The soul of Carnegie Hall," Debby King died in September of this year. The family of Leonard Bernstein and the Leonard Bernstein Office are deeply saddened by this loss; it feels like a family member has left our midst.
Debby began her backstage job in 1986. In those first years of her employment, Leonard Bernstein conducted and performed often at Carnegie Hall. Among his many appearances at Carnegie, Bernstein frequently conducted the Vienna Philharmonic there; he participated in several Music For Life concerts; and he celebrated the reopening of Carnegie Hall after a lengthy renovation. Debby always made the Maestro feel at home, and knew how to steady his nerves. At what proved to be his last concert at Carnegie, Bernstein discreetly gave Debby a pin in gratitude.
Debby never forgot a face. Every member of the inevitable post-concert backstage frenzy would receive Debby's warm and welcoming greeting. She worked with all the greats, and although she had stories to tell – you can be sure of that - she was guided by discretion.
Debby retired in the spring of 2021, after learning of her liver cancer diagnosis. Her Carnegie colleagues and her family came together to celebrate her more than three decades of service. Carnegie's Executive Director, Clive Gillinson, unveiled a photo and permanent plaque in the Hall's "Backstage Artist Gallery"—located just outside the Hall's Maestro Suite dressing room. The plaque reads: "This Artist Gallery is dedicated to Carnegie Hall's beloved Artist Liaison Debby King who for 34 years made backstage a warm and welcoming space for all."