Latest News
Leonard Bernstein Award for Sean Shibe
Posted February 15, 2022
The Leonard Bernstein Award 2022 goes to the Scottish guitarist Sean Shibe, who combines musical genres and epochs in an unusual way and thus gives the classical guitar new popularity.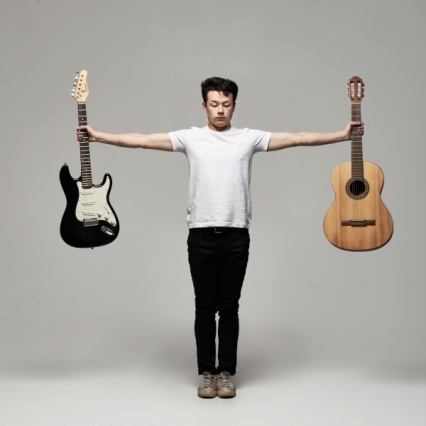 Credit: Kaupo Kikkas
Sean Shibe experienced his enthusiasm for music at an early age in his parents' home, where a lot of singing, listening to jazz, blues and experimental rock and going to concerts took place. However, he discovered his passion for the guitar rather by chance in a group class at school. Later, he studied at the Royal Conservatoire of Scotland and with the renowned Italian string virtuoso Paolo Pegoraro. Today, the 29-year-old is considered one of the most remarkable guitarists of our time. He has already released four solo albums, each with a well-thought-out concept and presenting a broad musical spectrum - from the Renaissance to contemporary compositions commissioned for him. In doing so, Sean Shibe not only plays classical guitar, but also experiments with various lute instruments and electric guitar to expand his musical horizons. "This recognition is deeply moving, perhaps particularly so because it is the first time that the Leonard Bernstein Award has been awarded to a guitarist - but mostly because it feels like a ratification of an artistic direction that, while deeply felt by myself, at the time seemed risky and peculiar to many of my colleagues. Thank you, SHMF, for instead encouraging me further!", Sean Shibe says happily about the honour.
"Sean Shibe is an impressively versatile young musician who inspires with the classical guitar as well as with the electric guitar or lute, opening up whole new musical worlds for us. We are excited to see where his journey will take him and are very pleased to support him on his way with the Leonard Bernstein Award!", says Oliver Stolz, President of the Sparkassen- und Giroverband for Schleswig-Holstein.
Since 2002, the Sparkassen-Finanzgruppe has donated the Leonard Bernstein Award, which is endowed with 10,000 euros, as part of the Schleswig-Holstein Musik Festival. The internationally renowned prize for young musicians has been awarded to Lang Lang, Martin Grubinger, Anna Vinnitskaya, Cameron Carpenter, Krzysztof Urbański and most recently Isata Kanneh-Mason. The Sparkassen-Finanzgruppe, which in addition to the Sparkassen includes Provinzial Nord Brandkasse AG, LBS Bausparkasse Schleswig-Holstein-Hamburg AG, DekaBank and the Deutsche Sparkassen- und Giroverband (German Savings Banks and Giro Association), sends a clear signal in the field of talent promotion with this prestigious award.
The jury this year again consisted of Christoph Eschenbach (Principal Conductor of the Schleswig-Holstein Festival Orchestra, Chief Conductor of the Konzerthausorchester Berlin), Jamie Bernstein Thomas and Alexander Bernstein (both Leonard Bernstein Society), Ute Fesquet (Senior Consultant Artists & Projects, Konzertdirektion Hans Ulrich Schmid), Martin Campbell-White (Askonas Holt Ltd., Consultant) as well as Oliver Stolz, President of the Sparkassen- und Giroverband for Schleswig-Holstein.
"As a young guitarist, Sean Shibe combines different styles and genres. In doing so, he impresses with outstanding musical ability, a rich imagination and the courage to break new ground. He enriches the concert stage with his programmes. We are looking forward to many stimulating ideas from this exceptional talent," says Festival Director Dr. Christian Kuhnt, who is also a member of the jury.
The Leonard Bernstein Award 2022 will be presented during the prize-winners' concert on Friday, 19 August in the Musik- und Kongresshalle in Lübeck. Sean Shibe will play the "Concierto de Aranjuez" by Joaquín Rodrigo. He will be accompanied by the Schleswig-Holstein Festival Orchestra conducted by Christoph Eschenbach.
Leonard Bernstein Award Prize-winner's Concert
Sean Shibe, guitar
Schleswig-Holstein Festival Orchestra
Christoph Eschenbach, conductor
Joaquín Rodrigo Concierto de Aranjuez for guitar and orchestra
Antonín Dvořák Symphony No. 8 G-major op. 88
19 August 2022
Lübeck, Musik- und Kongresshalle
Tickets available from 25 February