Latest News
Everett Lee: In Memoriam (1916-2022)
Posted February 22, 2022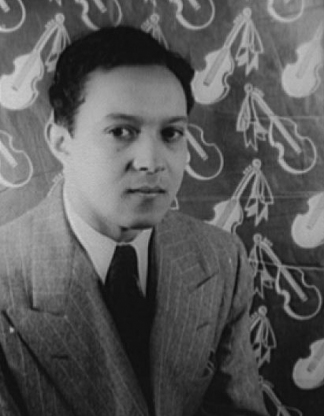 Portrait of Everett Lee. Carl Van Vechten, photographer. Courtesy of the Library of Congress.
We mourn the loss of conductor and violinist Everett Lee, who died at age 105 on January 12, 2022 in Sweden, and we hail the remarkable achievements of his distinguished career. Seventy-six years ago Lee broke racial barriers when, in September 1945, he stepped onto the podium of Bernstein's On the Town, doing so as an African American man at the helm of an otherwise all-white orchestra in Jim Crow America. Despite the persistent exclusions of "orchestrated discrimination," as the civil rights leader Vernon E. Jordan Jr. once put it, Lee flourished, albeit largely by working outside of the United States.
Born in West Virginia in 1916, Lee moved with his parents to Cleveland as part of the Great Migration. As a teenager he had a job at a local hotel "running the elevator and as a busboy," Lee recalled in a telephone interview with me in 2009. There, he met Artur Rodzinsky, then conductor of the Cleveland Orchestra. "And Rodzinsky," Lee remembered, "somebody told him that this kid is a very promising musician, and . . . he said, 'well, come to my concerts.' Every Saturday I could go to the Cleveland Orchestra concerts."
In 1943, Lee became concertmaster of the mostly white orchestra of the Broadway show Carmen Jones. Then he moved to On the Town.
Leonard Bernstein and Everett Lee worked together repeatedly over the years. In the summer of 1946, Everett and his wife Sylvia Olden Lee—who was to become a famed vocal coach—attended Tanglewood. "Lenny talked to Koussevitzky and I got the Koussevitzky scholarship, and I was up at Tanglewood," Lee recalled, "and boy that was a wonderful experience." In the fall of 1946—right after Tanglewood—Lee played first violin in the New York City Symphony, which Bernstein was then conducting.
Facing formidable obstacles for a Black conductor in the United States, Lee took matters into his own hands. In 1947, he formed the Cosmopolitan Symphony Society, an interracial orchestra in New York City that included several women, and it flourished. "My own group is coming along fairly well, but of course there is no money in it as yet," Lee wrote in a letter to Bernstein. "I hope to make it grow into something good however, and it may be the beginning of breaking down a lot of foolish barriers."
In steady resistance to the status quo, Lee kept building a career. In 1952, he and Sylvia received Fulbright Fellowships to study in France, Germany, and Italy, marking the first stage of Everett's career in exile. He continued to have invitations to appear in the U.S., but they were intermittent. Notably, in 1953 he was a guest conductor with the Louisville Orchestra. The New York Times claimed it to be "one of the first concerts in which a Negro has led an orchestra of white musicians." That same year, Sylvia was hired as a vocal coach by the Metropolitan Opera, becoming the first African American on the Met's professional staff. Then in 1955, Everett became the first African American to conduct the New York City Opera.
Each of those "firsts" marked an advance in civil rights, even as it exposed systemic exclusion. Ultimately Lee became an expatriate, as has been the case for many high-level Black musicians. Beginning in 1957, he and Sylvia moved to Munich, where he founded the Amerika Haus Orchestra. In 1963 he became music director of the symphony orchestra in Norrköping, Sweden, and he held that post for over a decade.
During the 1960s and 1970s, Lee's occasional conducting engagements in the United States included the Symphony of the New World in New York City, which was interracial and included women, and the New York Philharmonic, where Lee made his debut as a guest conductor in 1976.
In the ensuing years, Lee continued to conduct orchestras around the world. His marriage to Sylvia ended in divorce, and in 1979 he married Christin Andersson. Navigating a career in the United States "was a struggle," Lee acknowledged in our interview. Yet he thrived on podiums abroad, and he played an important role in challenging American orchestras to broaden beyond their white male rosters and foster a climate of inclusion.
This obituary draws from Oja's Bernstein Meets Broadway: Collaborative Art in a Time of War (Oxford University Press, 2014).