Latest News
SONY Releases Bernstein Conducts Beethoven Remastered
Posted November 15, 2019
AVAILABLE NOW! Buy on Amazon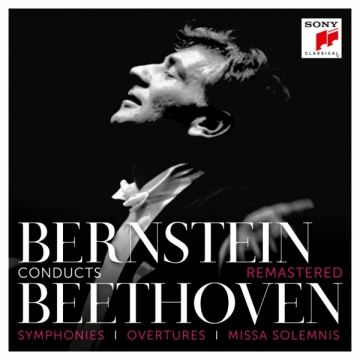 "No composer has ever lived who speaks so directly to so many people", said Leonard Bernstein of Ludwig van Beethoven. The great German composer, born in 1770 – 250 years ago in 2020 – had a gift for communication through music that links him directly to Bernstein, one of the 20th century's great musical communicators. This is nowhere more clear than in a work like the Ninth Symphony, with its rousing message of universal brotherhood.
Bernstein was also a significant interpreter of Beethoven's music, and recorded much of it multiple times. Celebrating Beethoven's 250th anniversary and following Bernstein's centenary in 2018, Sony Classical is proud to re-release Bernstein's first recorded cycle of Beethoven symphonies, made with the New York Philharmonic between 1958 and 1964. Also included are a collection of Beethoven overtures, first released in 1970, and theMissa solemnis recording of 1960.
All recordings are newly or recently remastered. Soloists include Martina Arroyo in the Ninth Symphony, and Eileen Farrell and Kim Borg in the Missa solemnis.
Bernstein described Beethoven's work as "Perhaps the closest music has ever come to universality", an aim to which Bernstein himself aspired through his composing and education work, as well as his conducting. These recordings, presented in vivid detail, are a testament to two great musical communicators.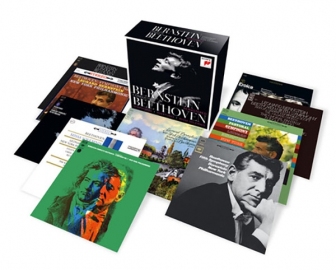 SET INCLUDES
Leonard Bernstein's Beethoven recordings from 1958 to 1970 in a single 10 CD edition
7 CDs newly remastered from the original analog masters using 24 bit / 192 kHz technology, 3 CDs remastered in 2017
Includes Bernstein's LP with overtures, his recording of the Missa Solemnis as well as his two renditions of Beethoven's Symphony No. 7 (recorded 1958/1964)
Facsimiles LP-sleeves and –labels, booklet with a new essay by Richard Osborne and full discographical notes
SET CONTENTS
DISC 1:
Beethoven: Symphony No. 2 in D Major, Op. 36 (Remastered)
Beethoven: Symphony No. 1 in C Major, Op. 21 (Remastered)
DISC 2:
Beethoven: Symphony No. 3 in E-Flat Major, Op. 55 "Eroica" (Remastered)
DISC 3:
Beethoven: Symphony No. 4 in B-Flat Major, Op. 60 (Remastered)
Beethoven: Symphony No. 8 in F Major, Op. 93 (Remastered)
DISC 4:
Beethoven: Symphony No. 5 in C Minor, Op. 67 (Remastered)
How a Great Symphony was written - Leonard Bernstein Talks about the First Movement of Beethoven's Fifth Symphony (Remastered)
DISC 5:
Beethoven: Symphony No. 6 in F Major, Op. 68 "Pastoral" (Remastered)
DISC 6:
Beethoven: Symphony No. 7 in A Major, Op. 92 (Remastered)
DISC 7:
Beethoven: Symphony No. 7 in A Major, Op. 92 (Remastered)
DISC 8:
Beethoven: Symphony No. 9 in D Minor, Op. 125 "Choral" (Remastered)
DISC 9:
Beethoven: Die Weihe des Hauses Overture, Op. 124 (Remastered)
Beethoven: King Stephen Overture, Op. 117 (Remastered)
Beethoven: Fidelio Overture, Op. 72b (Remastered)
Beethoven: Egmont Overture, Op. 84 (Remastered)
Beethoven: Leonore Overture No. 3, Op. 72a (Remastered)
DISC 10:
Beethoven: Missa Solemnis in D Major, Op. 123 (Remastered)