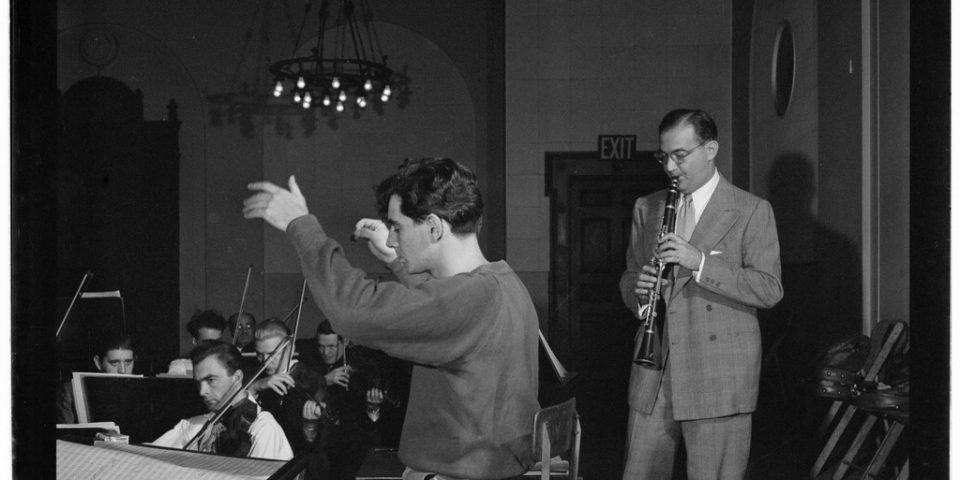 Originally written for Woody Hermann, this triptych for solo clarinet and jazz ensemble was dedicated to Benny Goodman and first performed by Al Gallodoro in 1955. The score reflects Bernstein's unique ability to embrace a style and make it his own. The three movements all share the exuberance and tradition of the big band.
*Music by Leonard Bernstein. ©1950, renewed
Richard Stoltzman, clarinet, London Symphony Orchestra conducted by Lawrence Leighton-Smith.
℗1992 BMG Music. 09026-61360. "The Essential Clarinet".
Details
(1949) 9 min
World Premiere:
October 16, 1955. Omnibus: The World of Jazz, New York, NY, United States | Al Gallodoro, clarinet / ABC-TV Studio Band / Leonard Bernstein, conductor
Scoring
Solo clarinet and jazz ensemble:2asax(I=cl).2tsax.barsax-5tpt.4trbn-pft-perc(2)-solo db
(arr. 1997) 9 min
World Premiere:
November 4, 1997. Jerusalem, Israel | Richard Stoltzman, clarinet / Jerusalem Symphony Orchestra / Lukas Foss, conductor
Scoring
solo clarinet.0.0.1.0-2.3.4.0-perc(3)-pft-strings (optional: tuba may double trbn 4)
Version Notes
Arranged by Lukas Foss
---
Purchasing Licensing Information
To perform Prelude, Fugue and Riffs, please contact Boosey & Hawkes. For general inquiries, click here.
Media
Leonard Bernstein, Benny Goodman, and Max Hollander, Carnegie Hall, New York, between 1946 and 1948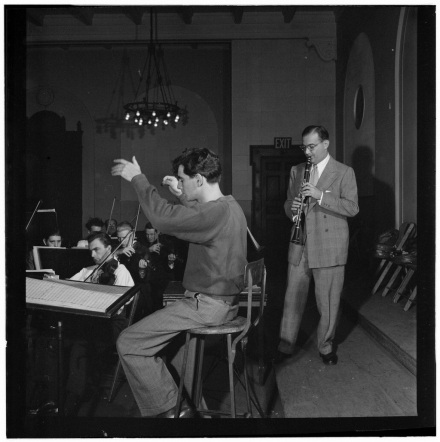 Photographer: William P. Gottlieb (via Wikimedia Commons)
Audio