Bernstein at 100
#BernsteinAt100

Leonard Bernstein at 100 is the world-wide celebration of the 100th birthday of Leonard Bernstein, the composer, conductor, educator, musician, cultural ambassador, and humanitarian, officially beginning on August 25, 2017, Bernstein's 99th birthday, and continuing through his 100th year until August 25, 2019. On this page you will find resources to help you discover and program Bernstein's works, in addition to news of Centennial events around the world.
On May 9, 2017, the Leonard Bernstein Office announced "Leonard Bernstein at 100," a two-year global celebration of the life and career of the 20th-century cultural giant, featuring more than 4,500 events on six continents. A kickoff at the John F. Kennedy Center for the Performing Arts on Friday, Sept. 22, 2017, officially launched the celebrations which continue worldwide through the end of August 2019. Read the full press release.
So many of you who experienced Leonard Bernstein up close have a story to tell. The Memory Project hopes to collect them and build a unique digital memorial to the Maestro. You can submit anything from a brief audio account, to a photo of a memento, to a written description of a personal experience. We know there are thousands of you out there with such stories! Please share them with us, so that we can help share them
with the rest of the world. You can submit them here.
On this page you will find a guide to using the official logo of the Leonard Bernstein at 100 centennial. Concert and event presenters may use the logo to promote events, and we ask that in exchange you will let us know of your event by adding it to the calendar.
Grammy Museum Exhibition: Leonard Bernstein at 100
The GRAMMY Museum's free traveling exhibition draws from more than 150 artifacts including photographs, personal items, papers, scores, and more. Experience it next at the New England Conservatory in Boston, MA from September 24 - November 11, 2018!

National Museum of American Jewish History Exhibit
Leonard Bernstein: The Power of Music
Leonard Bernstein: The Power of Music, the first large-scale museum exhibition to illustrate Leonard Bernstein's life, Jewish identity, and social activism, moves to Brandeis University in Waltham, Massachusetts. Experience the exhibit October 4-November 18, 2018!
The exhibition explores his Jewish identity and social activism in the context of his position as an American conductor and his works as a composer. Additional materials from the Brandeis archives document Bernstein's time at Brandeis as a member of the music faculty and the Board of Trustees. Free and open to the public.
Visit the Bernstein Experience for curated collections of archives, news articles, weekly news round-ups, travel blogs from the Bernstein children, exclusive audio and video footage, and more. Watch, listen, and read your way with us through The Bernstein Experience! Says Jamie Bernstein, Alexander Bernstein, and Nina Bernstein-Simmons: "We invite everyone to celebrate our dad on classical.org over the coming year!"
We have compiled a Centennial Committee to serve as a reflection of the extraordinarily wide range of friends, colleagues and admirers around the world whose lives were – and still are – touched by him. View the list here.
Programming
We have resources throughout the site to aid presenters in planning their Centennial celebrations. The Boosey&Hawkes Programming Guide will walk you through Bernstein's musical compositions. Also, we have assembled a list of Ancillary Programs that can augment events through a variety of recitals, concerts, master-classes, lectures, and symposia.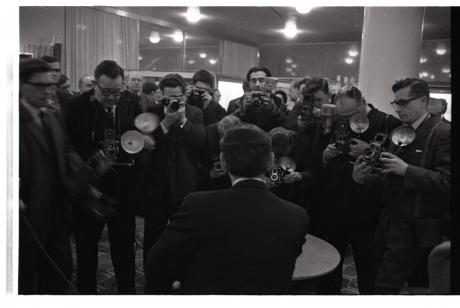 Thursday November 15, 2018
5:30 pm
Blue Note Tokyo, Minatoku, Minami Aoyama, Tokyo, Japan
6:45 pm
S. Dillon Ripley Center, Washington, DC, United States