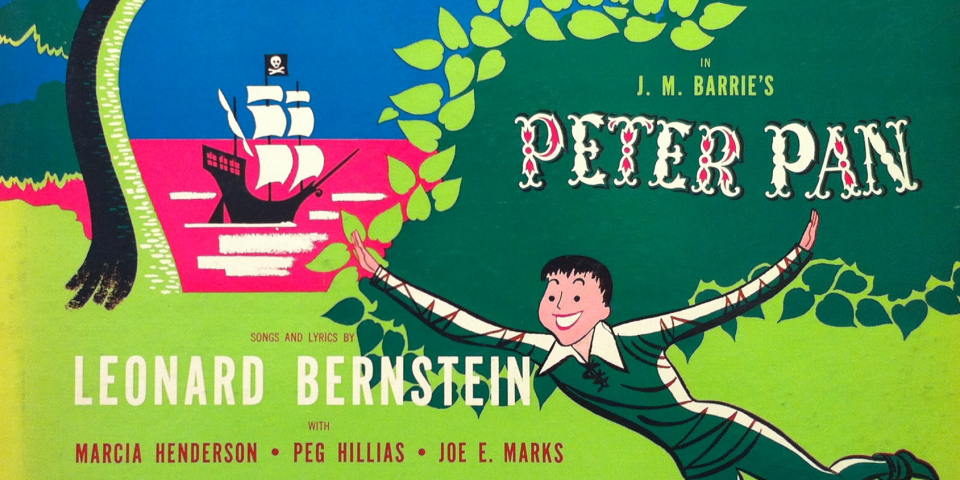 Program Note
The history of Leonard Bernstein's songs and incidental music for J.M. Barrie's play Peter Pan is a complicated one. His involvement in the 1950 Broadway production, starring Boris Karloff and Jean Arthur, was relatively minimal in comparison to his other Broadway works. Invited to provide only a few dances and incidental cues, he found himself "losing his head" and surprised the producers by writing seven songs as well, including original lyrics. Bernstein was in Europe during the rehearsal period for the show, unable to participate in the creative process as he usually would for a new theatre work. It was Trude Rittman, credited as Musical Coordinator, who took his material and worked it into the production according to its needs, extracting reprises and underscores from Bernstein's larger numbers and adapting Tink's musical speech fragments to fit the play dialogue. This Peter Pan is not a musical—Bernstein did not structure a musical/dramatic totality as he did for his other stage works, and was not a direct collaborator in the production. Nevertheless, the score demonstrates a clear use of motivic development, and a consistency of gesture, innocence, and wit that together form a cohesive whole.
Many curious changes were made to the score after it left Bernstein's hands. The lovely Dream With Me was jettisoned as Wendy's final song, in favor of an inexplicable reprise of Who Am I. An additional scene was created for the death of Hook (not included in this edition, or for that matter in the play itself) which sutured Plank Round and Neverland together with new lyrics of dubious authorship (they were certainly not written by Bernstein or Barrie), to provide a pat moral to this morally ambiguous story. For the original cast recording, Bernstein's instrumental numbers, for reasons unknown, were replaced with new cues by Alec Wilder (which has led to the misconception that Bernstein's incidental music was not used for the Broadway production), and the songs themselves were altered to accommodate spoken narration and new introductions. Many of these recording-specific alterations to the songs were in turn re-incorporated into the orchestral materials for the show. For the national tour, with Lawrence Tibbett as Hook, Bernstein contributed a new song, Captain Hook's Soliloquy, but the tour was cancelled mid-run, and the song went unheard for decades.
Bernstein's music for Peter Pan lay fallow for over half a century, largely forgotten save for a very few sporadic, small-scale productions, and overshadowed by the 1954 full-blown musical treatment (with lyrics by Betty Comden and Adolph Green, and direction and choreography by Jerome Robbins, Bernstein's long-time friends and collaborators). But in 2001, the conductor Alexander Frey came to the Leonard Bernstein Office with the proposal to record the score in its entirety, including Dream With Me and Captain Hook's Soliloquy, for which new orchestrations were created by Sid Ramin and myself. The recording has been a great success, leading to the first significant theatrical productions in over a generation. However, the only materials available at the time of the recording were a set of parts created by a civic theatre in the 1980s, which were unsuitable for editorial use, and it became clear that to enable the work to thrive, a full orchestral score (all previous editions have been conducted from the piano/vocal) and new parts would need to be created.
The greatest challenge in preparing this new edition was determining what, exactly, Peter Pan should be—to untangle the thicket of changes, cuts, transpositions, and omissions that history had woven around the score, return the specific cues and songs to Bernstein's original musical intentions, and to present the music in a theatrically viable way that could be usefully employed in a production of Barrie's play. Fortunately, the original 1950 orchestral parts had at some point been sent to the Bernstein archive at the Library of Congress. This return to the source material afforded many opportunities and surprises—it was finally possible to assess and redress the many modifications that had been made to the individual numbers over the years. All cuts have been restored, and the songs returned to their original keys. At the same time, it became clear that many of the small underscore cues and scene changes in the more recent materials, which are taken from the larger numbers, had been added at some point after the original production, and that other moments of the play required cues for which there was no music specified. Since Bernstein never chose to create a definitive plan for the music's incorporation into the play, I have integrated the best of these cues into this edition, and inserted additional cues where necessary (for example the Nursery Piano reprise of Who Am I in the final scene.)
This edition therefore reflects the most thorough incorporation of the music into the play, and for the first time presents it in an accurate and comprehensive orchestral full score. I am very grateful to Alexander Frey for his tireless dedication to bringing Bernstein's music for Peter Pan to light. Credit must also go to Scott Eyerly, who proofed this score through the many stages of its very complicated development. With this edition, the major barrier to productions of Leonard Bernstein's Peter Pan has been broken, and this score can now be heard as the piece of theatrical wonder that it is.
© Garth Edwin Sunderland
Throughout the Leonard Bernstein Centennial, Peter Pan received 30 performances by theater companies in Asia, Europe, and North America. An innovative staging at Bard College led to new interest in the rarely produced work.
*Incidental Music to the Play by J.M. Barrie. Music and lyrics by Leonard Bernstein. ©1950, renewed
Roberta Alexander with Tan Crone, piano.
℗1986 Etcetera Record Company B.V. KTC 1037 "Leonard Bernstein Songs".
Related Content
The New York Times: Wait, Leonard Bernsten Wrote a 'Peter Pan' Musical?

Details
(1950) 55 min
Text
Leonard Bernstein (in English)
Broadway Opening:
April 24, 1950. Imperial Theatre, New York, NY, United States | John Burrell and Wendy Toye, directors / Ben Steinberg, conductor
Scoring
Main roles: 3S.Bar.TTBB chorus
Version Notes
Songs, choruses, and incidental music for the play by J.M. Barrie
(200?) 65 min
Text
Lyrics by Leonard Bernstein; Narration adapted from J.M. Barrie by Nina Bernstein (in English)
Scoring
Main roles: 3S.Bar; TTBB chorus
Version Notes
Concert staging adapted by Nina Bernstein from the novel
---
Arrangements
Both Concert and Stage Versions are available in 5-piece reduced orchestration arrangements.
(arr. Garth Edwin Sunderland)
Purchasing Licensing Information
To perform Peter Pan, please contact Boosey & Hawkes. For general licensing inquiries, click here.
To purchase sheet music for songs from Peter Pan, please visit our store.
Media
Boris Karloff as Captain Hook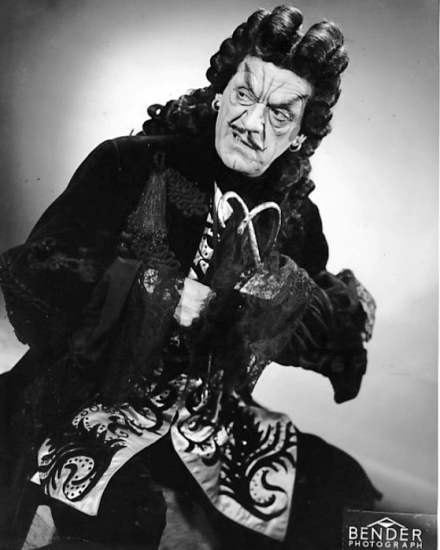 Wikimedia Commons
Bernstein: Peter Pan - Dream With Me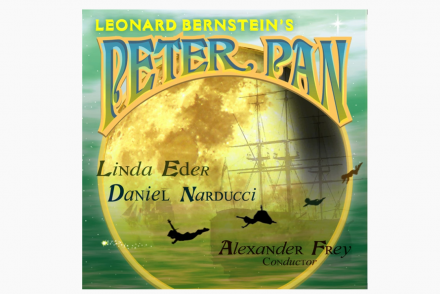 Audio