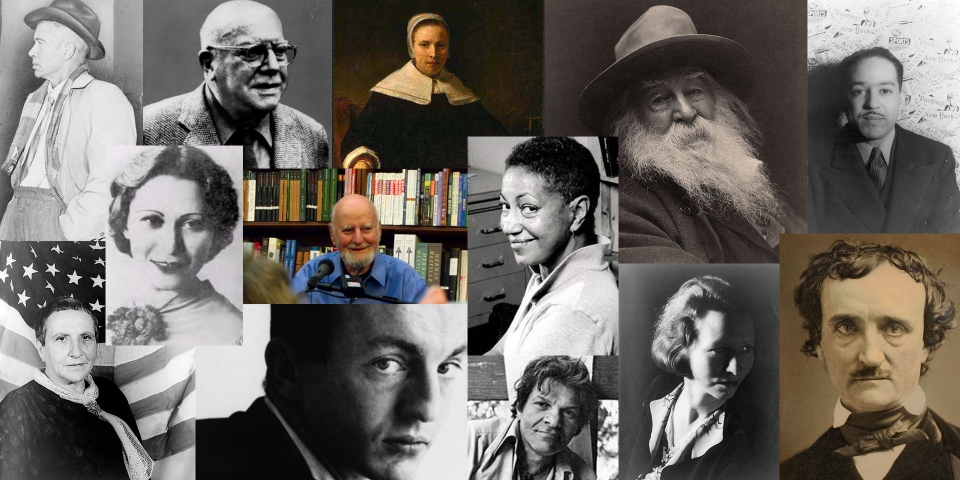 For two mezzo-sopranos, tenor, baritone, bass, and orchestra
I. "To the Poem" (Frank O'Hara)
II. "The Pennycandystore Beyond the El" (Lawrence Ferlinghetti)
III. "A Julia de Burgos" (Julia de Burgos)
IV. "To What You Said" (Walt Whitman)
V. "I, Too, Sing America" (Langston Hughes) / "Okay 'Negroes' " (June Jordan)
VI. "To My Dear and Loving Husband" (Anne Bradstreet)
VII. "Storyette H. M." (Gertrude Stein)
VIII. "if you can't eat you got to" (e.e. cummings)
IX. "Music I Heard With You" (Conrad Aiken)
X. "Zizi's Lament" (Gregory Corso)
XI. "What Lips My Lips Have Kissed" (Edna St. Vincent Millay)
XII. "Israfel" (Edgar Allan Poe)
Program Notes
by Jack Gottlieb
Originally commissioned to be a work in cele­bration of the American Bicentennial Year (1976), Songfest could not be completed in time. Although the commission was vacated, the idea persisted: to draw a comprehensive picture of America's artistic past, as seen in 1976 through the eyes of a contemporary artist. The composer has envisioned this picture through the words of 13 po­ets embracing 300 years of the country's history. The subject matter of their poetry is the American artist's experience as it relates to his or her crea­tivity, loves, marriages, or minority problems (blacks, women, homosexuals, expatriates) within a fundamentally Puritan society.
An insight into the composer's thought-process during the two years of building Songfest may be gained from considering the variety of possible titles he contemplated: An American Songfest, Six Characters in Search of an Opera, Notes Toward an American Opera, The Glorious Fourth (with both patriotic and musical import). Mortal Melodies, A Secular Service and Ballet for Voices, among others. Furthermore, each of the three sex­tets contains a key poetic phrase that provides other insights: "a real right thing" (O'Hara), "if you can't sing you got to die" (cummings), and "a mortal melody" (Poe).
The strongest binding musical force in the Cycle is that of unabashed eclecticism, freely reflecting the pluralistic nature of our most eclectic country. The composer believes that with the ever-increasing evidence of this unfettered approach to writing new music, typical of many other composers to­day, we are moving closer to defining "American music". In a musical world that is becoming ever more international, the American composer - to the extent that his music can be differentiated as "American" — inevitably draws from his own in­ner sources, however diverse and numerous they may be.
The world premiere of the full Songfest took place on 11 October 1977, the composer conducting the National Symphony Orchestra of Washington with the same singers heard on this recording. Five of the songs had been performed previously: the Aiken, Corso, Millay and de Burgos settings were premiered on 24 November 1976 with the New York Philharmonic; and the Bradstreet trio was first presented at the Presidential Inaugural Gala of Jimmy Carter on 19 January 1977, and was dedicated, on that occasion, to Mrs. Carter. The entire work, however, has been dedicated by Mr. Bernstein: "To My Mother".
The score calls for the following instrumentation, in varying combinations from song to song: pic­colo, 2 flutes, 2 oboes, English horn, E-flat clari­net, 2 B-flat clarinets, bass clarinet, 2 bassoons, contra-bassoon, 4 horns, 3 trumpets, 3 trombones, tuba, piano, celesta, electric keyboard and bass guitar, harp, timpani and 25 other percussion in­struments, along with the usual body of strings.
A brief description of each song follows:
TO THE POEM (Frank O'Hara, 1926-1966): A proclamation of and for unpretentious art, done as a kind of satire on patriotic hymns. The composer ironically misplaces syllabic accents of certain words (e.g. "someTHING" and "eleGANT'). Furthermore, he uses a full brass section at the precise moment when O'Hara's words tell us: "not needING A milItaRY band".
THE PENNYCANDYSTORE BEYOND THE EL (Lawrence Ferlinghetti, b. 1919): A frustrated sexual encounter in childhood recalled from the adult's point of view, this is a hushed, jazzy scherzo employing strict 12-tone technique.
A JULIA DE BURGOS (Julia de Burgos, 1914—1953): The poet qualifies as an American citizen since she was from the Commonwealth of Puerto Rico. In angry words (sung in Spanish) she expresses her self-conflict about the dual role she plays as a conventional woman and as a liberated woman poet. (Her poem antedates by two decades the so-called women's liberation movement.) The music is sharply rhythmic, almost a dance.
TO WHAT YOU SAID . . . (Walt Whitman, 1819 —1892): A recently discovered poem about the poet's homosexual secret, and never published in his lifetime. Over a continuous ostinato middle C, this setting comes closest in the Cycle to being simply a "song", what the French would call "une mélodie".
I, TOO, SING AMERICA (Langston Hughes, 1902-1967) and OKAY "NEGROES" (June Jor­dan, b. 1936): Perhaps the first attempt ever to combine poems by two different authors. The Hughes poem (an indirect allusion to Whitman's lifelong theme of "singing America'') concerns the black artist seeking a forum in which to glorify his identity. The Jordan poem seems to mock these at­titudes in words about the new "Black" as opposed to the outdated concept of the "Negro". The offspring of this poetic marriage is a kind of opera­tic recitative with "scat" singing.
TO MY DEAR AND LOVING HUSBAND (Anne Bradstreet, c. 1612—1672): Unlike the po­sition taken by Julia de Burgos, Anne Bradstreet expresses her dual role of being a woman and a poet as one that can work harmoniously. Although contemporary American poetry is blessed with many women poets (Sylvia Plath, Muriel Rukeyser, and others) how extraordinary it must have been to be a female voice in the wilderness of pre-Colonial America! The composer has said that if he had written this as a solo piece, the naivete of the poem would have made the setting sentimen­tal. By making it a trio, the sentimentality is avoided, and the poem becomes more sophisti­cated. However, this is not a Rosenkavalier kind of female trio with three independent thoughts, but, rather, a multi-layered abstraction of one indi­vidual's feelings.
STORYETTE H.M. (Gertrude Stein, 1874- 1946): The initials specifically refer to the painter Henri Matisse, but the story, in general, refers to impossible marriages. Musically, it is delivered as a deadpan duet with a perpetuo moto accompaniment, both of which mirror the poet's distinctive manner.
"if you can't eat you got to" (e.e. cummings. 1894—1962): The Bohemian artist in a casual mood, speaking of his poverty, his life-style, and his artistic compulsion. The music swings in the old radio way of the Mills Brothers, a team of four black men who specialized in making instrumental effects through purely vocal means.
MUSIC I HEARD WITH YOU (Conrad Aiken, 1889 —1973): A remembrance of bereaved love. More than any of the songs heard thus far, this one adheres closely to the tradition of art-song. The unusual factor here is that both diatonic and 12-tone sections coexist and interlock.
ZIZI'S LAMENT (Gregory Corso, b. 1930): The expatriate in Belly-Dance Land. The young poet identifies with the aging North-African enter­tainer; and the music is, indeed, a kind of sym­phonic belly-dance overladen with melancholy and bitter humor.
WHAT LIPS MY LIPS HAVE KISSED . . . (Edna St. Vincent Millay, 1892-1950): Haunted by forgotten lovers, the poem is not only moving, but sensual in its heartbroken way. The setting is an adapted song-form: A, A1, A2,B, A3, based on a plaintive rising melodic figure. The composer has been heard to say that this is his favorite song in the Cycle.
ISRAFEL (Edgar Allan Poe, 1809-1849): The ti­tle is the name of the Moslem angel of music (from the Koran) who will blow the trumpet on Judg­ment Day, and who despises an unimpassioned song. The poet utters paeans to this immortal spirit, at the same time conceding the inevitable mortality of his own songs. All this is in the ornate antebellum manner of which Poe was a master, and the music is similarly florid and highly virtuosic in its praising of the creative muse.
*Words by Julia De Burgos, E.E. Cummings, Walt Whitman.
Music by Leonard Bernstein. ©1977
Clamma Dale, soprano; Rosalind Elias, mezzo soprano; Nancy Williams, mezzo soprano;
Neil Rosenshein, tenor; John Reardon, Baritone; Donald Gramm, bass
National Symphony Orchestra, conducted by Leonard Bernstein.
℗1978 Polydor International GmbH, Hamburg. 447 957-2
Details
(1977) 41 min
Text
Poems by Frank O'Hara, Lawrence Frelinghetti, Julia de Burgos, Walt Whitman, Langston Hughes, Anne Bradstreet, Gertrude Stein, e.e. cummings, Conrad Aiken, Gregory Corso, Edna St. Vincent Millay, Edgar Allan Poe (in English and Spanish)
World Premiere:
October 11, 1977. John F. Kennedy Center for the Performing Arts, Washington DC, United States | Clamma Dale, soprano / Rosalind Elias, mezzo / Nancy Williams, mezzo / Neil Rosenshein, tenor / John Reardon, bass / Donald Gramm, bass-baritone / National Symphony Orchestra / Leonard Bernstein, conductor
Scoring
3(III=picc).2.corA.2.Ebcl.bcl.2.dbn-4.3.3.1-timp.perc(4-5)-harp-pft(=cel,elec.pft)-fender bass-strings
(arr. 1996) 41 min
Text
Various (in English and Spanish)
Scoring
2(II+picc).2(II=corA).2(I+Ebcl,II+bcl).2-2.2.2.0-timp.perc(2)-pft-strings
Version Notes
Arranged for chamber ensemble by Charlie Harmon, Sid Ramin, and George Steel
---
Purchasing Licensing Information
To perform Songfest, please contact Boosey & Hawkes. For general licensing inquiries, click here.
Media
The poets of Songfest | Left-to-right/top-down: e.e. cummings, Conrad Aiken, Anne Bradstreet, Walt Whitman, Langston Hughes, Julia de Burgos, Frank O'Hara, Gertrude Stein, Lawrence Ferlingetti, Gregory Corso, Edna St. Vincent Millay, Edgar Allan Poe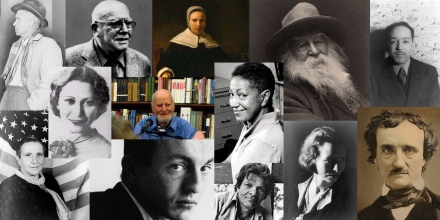 Photos from Wikimedia Commons
Audio