Latest News
New Ballet by Alexei Ratmansky set to Leonard Bernstein's Divertimento
Posted March 22, 2021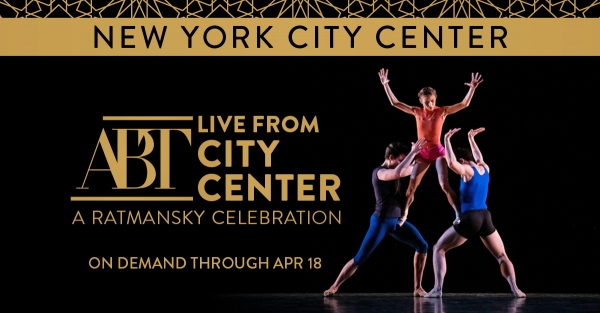 ABT Live from City Center | A Ratmansky Celebration
Premieres Mar 23
View on demand through Apr 18
$25 digital access
"Ratmansky's latest, set to Leonard Bernstein's brisk 'Divertimento,' has an air of American optimism and heroism along with the idea that drive and spirit are more than enough to save the day." —The New York Times
Enjoy a night at the ballet with works by acclaimed choreographer and American Ballet Theatre Artist in Residence Alexei Ratmansky. Filmed live on the City Center stage, the company's renowned dancers bring to life the World Premiere of Ratmansky's Bernstein in a Bubble, along with excerpts from his recent works for ABT.
Inspired by the quintessentially American spirit of Bernstein's Divertimento, this new work explores the artistic personalities of ABT's world-class dancers—an exciting reflection of artistic creativity in these challenging times.

Produced by American Ballet Theatre, New York City Center, and Nel Shelby Productions.
Photo credit: American Ballet Theatre's Patrick Frenette, Skylar Brandt, and Tyler Maloney in Bernstein in a Bubble; photo by Christopher Duggan Photography.