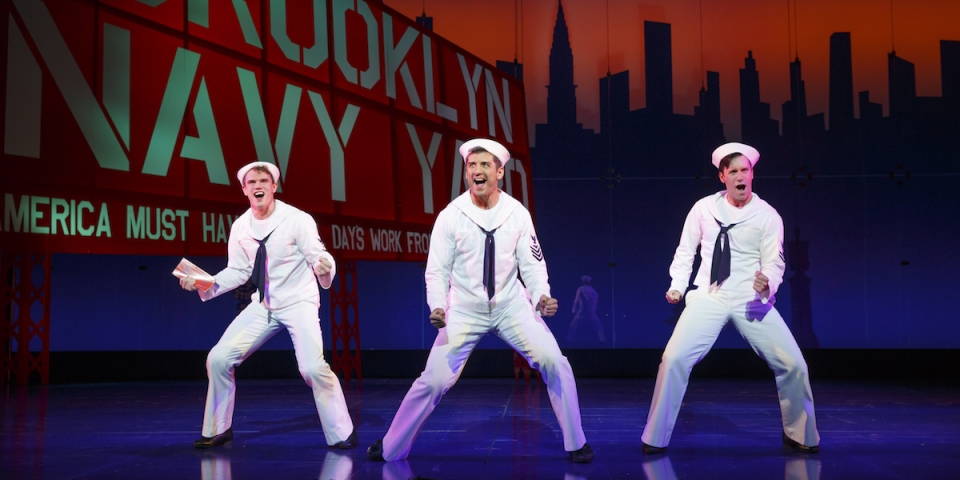 Background
On November 14, 1943, 25 year old Leonard Bernstein made his stunning conducting debut with the New York Philharmonic. He became the youngest person to conduct a Philharmonic subscription concert. That same fall, 25 year old Jerome Robbins approached him with an idea for a ballet: three sailors on 24-hour shore-leave in New York City. This was to be Robbins's first real choreographic effort. The premiere of Bernstein's first Symphony, Jeremiah, on January 28, 1944 with the Pittsburgh Symphony Orchestra immediately established him as an American symphonic composer of significance. The Bernstein/Robbins collaboration, Fancy Free premiered on April 1944, and was an unqualified success. The ballet launched Bernstein's composing career and spawned the musical comedy On the Town.
Oliver Smith, the 25 year old who had designed the sets for Fancy Free, loved the ballet and suggested turning it into a full-length show. With his friend Paul Feigay, also 25, he proceeded to produce the show. Bernstein would write the score, Robbins would choreograph--but who would write the book and lyrics? Robbins wanted to enlist Arthur Laurents for the book and John Latouche for the lyrics, but Bernstein suggested his friends Betty Comden, 26, and Adolph Green, 29, whose work as part of the comedy troupe The Revuers he had long admired. Smith and Feigay had never heard of this writing team so Bernstein took them to see the Revuers at the Blue Angel nightclub; and the rest, as they say, is history.
This was to be a Valentine for New York, Bernstein's adopted city. They began work in June 1944. They each brought with them extraordinary creative genius, passion for their craft, and remarkably youthful exuberance. They were all in their mid-twenties, working on the first of what would be many Broadway projects. With the esteemed George Abbott directing (he liked "the kids connected with the show"), On the Town was sure to be a hit.
Like Fancy Free, On the Town tells the story of three sailors during World War II and their amorous adventures on a 24-hour shore leave in New York City. The framework of a full-length musical piece, however, permitted the development of complete characters, comic situations, and a distinct theatrical personality. This personality, a rare combination of lighthearted and passionate, derived from the dramatic demands of time juxtaposed against the ominous background of the war. Surely, the personalities of its authors also influenced the show's singular identity. Furthermore, Comden and Green insured that the spirit of their writing would come to life by playing Claire and Ozzie themselves.
Variety Magazine announced the show on June 7, 1944 saying, "...a group of youngsters have gotten together to stage a musical production. On the Town, skedded for Broadway this fall will be written, produced and staged by 23 to 25 year-olds headed by Leonard Bernstein, who recently has forged to the front of the ranks of young symphonic composers and conductors.
On the Town was an instant hit upon opening on Broadway in 1944. MGM acquired the film rights that same year, and released a movie in 1949, starring Gene Kelly and Frank Sinatra. Louis B. Mayer replaced almost all of Bernstein's score. For those familiar only with the film version, there are two notable recordings of the original show. Michael Tilson Thomas conducts the London Symphony Orchestra in the complete score, featuring soloists Thomas Hampson, Kurt Ollmann, Frederica von Stade, and Tyne Daly (Deutsche Grammophon, 2008). The recording contains two numbers dropped before the New York Premiere. http://www.deutschegrammophon.com/us/cat/4791111. This performance is also available as a video release (Deutsche Grammophon, 1993). Bernstein himself conducts the New York Philharmonic in "Three Dance Episodes from On the Town" (Sony, 1964). The complete vocal score is available at the Official Leonard Bernstein® Store.
On the Town lasted almost fourteen months. Since its remarkable 1944 premiere, it has had several significant revivals, including a 1996 production with the New York Shakespeare Festival, at the Delacorte Theater in Central Park. On the Town is part of the English National Opera's standard repertoire, and most recently ran in 2007. In 2008, the New York City Center presented On the Town as part of its program, Encores! Great American Musicals in Concert. The Papermill Playhouse ran a new production in 2009 which The New York Times called "high-class, hotsy-totsy, spiffy and just plain swell." Most recently, The Albany Times Union called the 2013 Barrington Stage Company's revival of On the Town, "Sassy, sexy, energetic and fun… a hell of a musical."
On the Town was revolutionary in many regards. It is significant that Bernstein was the first symphonic composer to collaborate on an American musical. In an unprecedented move, MGM purchased the rights for a film before the show had its premiere. In a lecture given at Catholic University on October 24, 2011 Mark Horowitz of the Library of Congress acknowledged that "Perhaps in part because of Comden's involvement, the focus of the show (compared to Fancy Free) changed significantly toward the female characters." On the Town was also the first musical that incorporated black and white characters on stage in equal roles, as pedestrians, sailors, typical New Yorkers, holding hands during the dance numbers. Everett Lee, the show's conductor made history by becoming the first black conductor and musical director on Broadway. However, Horowitz believed that "The most amazing aspect was the decision to cast a Japanese-American for the starring role, a character described in the script as an 'All-American Girl' - albeit 'exotic' - at a time when the U.S. was at war with Japan and anti-Japanese prejudice and propaganda was at a boiling point."
On the Town is at its heart, a love affair with New York. From the city's high culture, to its lowbrow street smarts, to the innocent adventurousness of three sailors and the women they come across, it is, in all senses, and for all the senses, a "total embrace."
*Book and Lyrics by Betty Comden and Adolph Green; Book based on an idea by Jerome Robbins.
Music by Leonard Bernstein. ©1944, 1945, 1946, 1960, 1972, 1973, 1988.
London Voices, London Symphony Orchestra, conducted by Michael Tilson Thomas
Claire - Frederica Von Stade;
Hildy - Tyne Daly;
Ivy - Marie McLaughlin;
Gabey - Thomas Hampson;
Chip - Kurt Ollmann;
Ozzie - David Garrison;
Pitkin/First Workman/Announcer - Samuel Famey;
Madame Dilly - Evelyn Lear;
The Nightclub Singer - Cleo Laine;
Diana Dream - Meriel Dickinson;
Two Workmen - Lindsay Benson, Stuart Collins;
Three New Sailors - Lindsay Benson, Bruce Ogstein, Nicholas Sears;
Raja Bimmy - Adolph Green.
℗1993 Deutsche Grammophon GmbH, Hamburg. 437 516-2.
Related Works
Three Dances Episodes from "On the Town"

Related Content
IBDB: On The Town

Details
On the Town has been a classic since its original Broadway run in 1944. In addition to the theatrical staging, the work also exists in a concert version.
(1944) 71 min (music, not counting book)
Text
Book and Lyrics by Betty Comden & Adolph Green (based on an idea of Jerome Robbins)
Broadway Opening:
December 28, 1944. Adelphi Theatre, New York, NY, United States | George Abbott, director / Lehman Engel, conductor
Scoring
Major roles: 3 men, 3 women; Minor roles: 15 men, 7 women (both with doublings) Chorus; Dancers; 1(=picc.).1(=corA).3(I=EIcl,II=asax,III=bcl -2.3.3.0- timp.perc(1):SD/BD/tom-t/hi hat/susp.cymb/cowbell/tgl/ tpl.bl/tamb/ratchet/slide whistle/xyl/glsp/vib-pf
(1944 / 1992) 71 min (music + narration)
Text
Book and Lyrics by Betty Comden & Adolph Green (based on an idea of Jerome Robbins)
World Premiere:
June 28, 1992. Barbican Centre, London, United Kingdom | London Symphony Orchestra / Michael Tilson Thomas, conductor
Scoring
Major roles: 3 men, 3 women; Minor roles: 15 men, 7 women (both with doublings); Chorus; Dancers 1(=picc).1(=corA).3(I=Ebcl,II=asax,III=bcl).0-- 2.3.3.0--timp.perc-pft--strings
---
Arrangements
Overture to On The Town
(1944) 6 min
for orchestra
Scoring: 1.1.2.bcl.0-2.3.3.0-perc-pft-strings
Three Dance Episodes from On The Town (1945)
Purchasing Licensing Information
Media
2014 Broadway Revival; Left to right: Jay Armstrong Johnson, Tony Yazbeck, Clyde Alves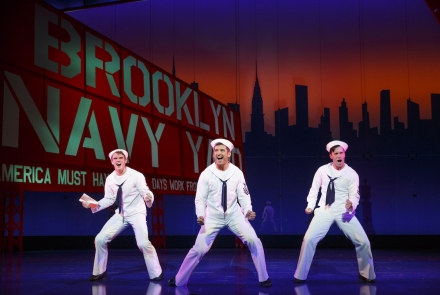 Photographer: Joan Marcus
Bernstein's manuscript score for "Lonely Town"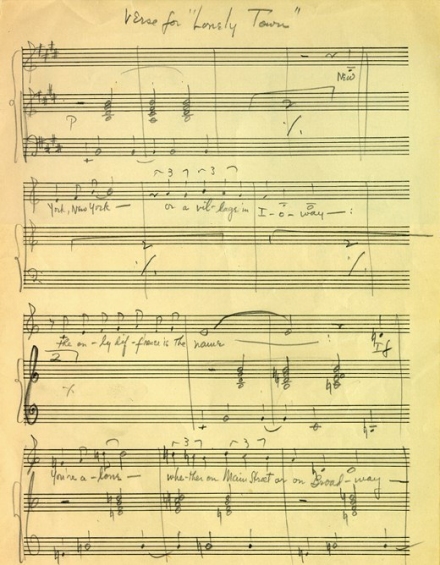 Audio