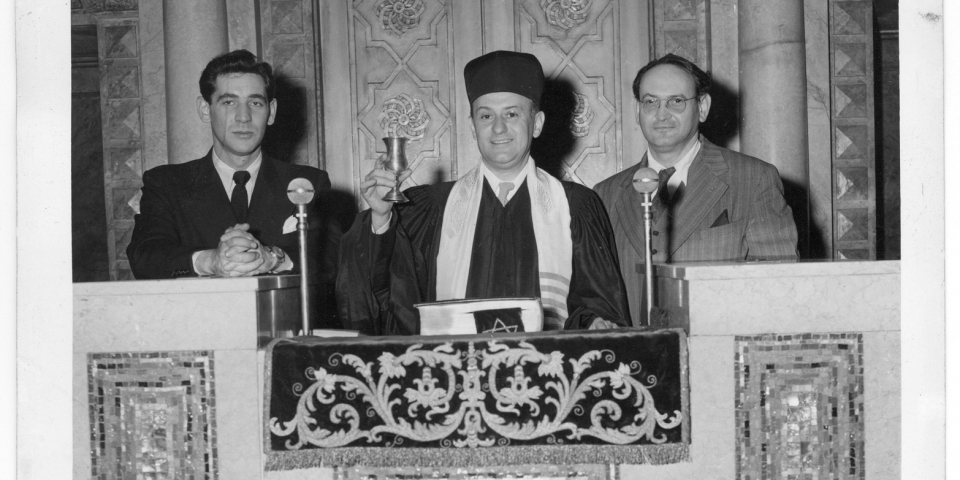 The liturgical text Hashkivenu is recited at all evening services, with some text variation between the weekday recitation and that on Sabbaths and other holy days. The version here is for Sabbath eve, and Bernstein's three-part division in the music is dictated by the text's structure. This setting was commissioned by Cantor David Putterman for the annual service of new music at New York's Park Avenue Synagogue, where it was premiered in 1945 by Cantor Putterman with the expanded synagogue choir conducted by Max Helfman and Isidor Geller as organist. As part of a letter to his secretary, Helen Coates, dated March 3, 1945, Bernstein wrote a poem entitled: "On Not Having an Idea in My Head for a Setting of Hashkiveinu!"
Oh deign, foolish Muse
To sit upon my shoulder,
I've got to sing a Blues
Ere I am one week older.
The trouble of the Jews
In my dear guts does smolder
But sparkless is the fuse:
My writing arm grows colder.
I ask not, stupid Muse,
For a Tristan and Isolde,
Just a small Berceuse—
But ere I'm one week older!!!
Lyrics
Sung in Hebrew
Cause us, O Lord, our God, to retire for the evening in peace and then again to arise unto life, O our King, and spread Your canopy of peace over us. Direct us with Your counsel and save us for the sake of Your name. Be a shield around us.
Remove from our midst all enemies, plague, sword, violence, famine, hunger, and sorrow And also remove evil temptation from all around us, sheltering us in the shadow of your protecting wings.
For indeed You are our guardian and deliverer; You are indeed a gracious and compassionate king. Guard our going and coming, for life and in peace, from now on and always. Spread over us the sheltering canopy of Your peace. Praised be You, O Lord, who spreads the canopy of peace over us and over all Your people Israel, and over all Jerusalem. Amen.
Notes by Jack Gottlieb
Details
(1945) 6 min
Text
Prayer text from Sabbath Evening service
World Premiere:
May 11, 1945. Park Avenue Synagogue, New York, NY / David Putterman, cantor / Max Helfman
Scoring
cantor (tenor), SATB chorus and organ
---
Purchasing Licensing Information
To perform Haskiveinu, please contact Boosey & Hawkes. For general licensing inquiries, click here.
Media
Leonard Bernstein, Cantor David Putterman, and Max Helfman. World Premiere performance of Hashkiveinu by Leonard Bernstein, May 11, 1945.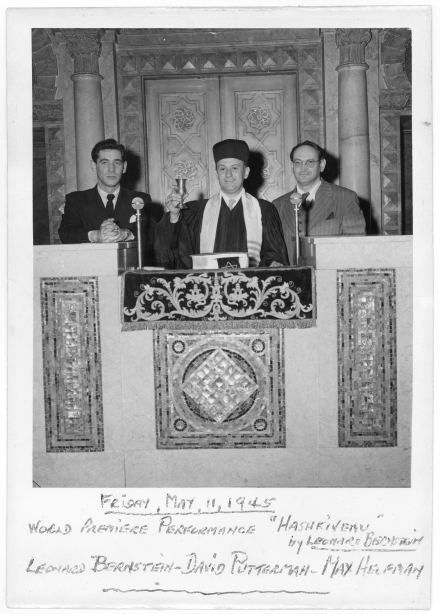 Leonard Bernstein Conducts the CBS Broadcast of his Hashkiveinu with Cantor David Putterman (front) and the Park Avenue Synagogue Choir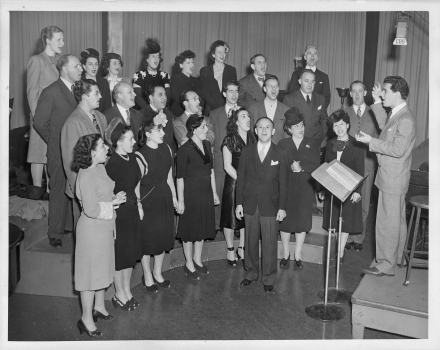 The Park Avenue Synagogue/David J. Putterman Music Collection, Box 11, The Library of the Jewish Theological Seminary