Latest News
Bernstein at Ravinia
Posted July 1, 2019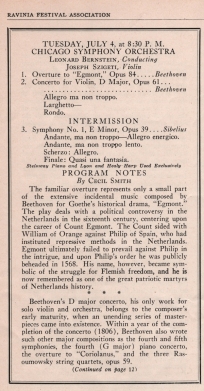 On July 4, 1944 (75 years ago!), Leonard Bernstein made his first appearance with the Chicago Symphony Orchestra (CSO) at the Ravinia Festival, in a program featuring Sibelius' Symphony No. 1 along with Beethoven's "Egmont" Overture and Violin Concerto (Joseph Szigeti, violin). Bernstein conducted 4 concerts that week, including the Chicago premieres of Bartók's Rhapsody No. 1 for Violin and Orchestra, Copland's Suite No. 1 from the film Our Town, as well as his own Symphony No. 1: Jeremiah, with mezzo-soprano Jennie Tourel. Bernstein also led the orchestra from the piano in Ravel's G Major concerto, marking his solo debut with the CSO.
Bernstein returned to Ravinia the following year in 1945 and 1956, and conducted the CSO during regular season concerts at Orchestra Hall, Carnegie Hall, and in Milwaukee, WI.
Bernstein's final concerts conducting the CSO in June 1988 included Shostakovich's monumental 1st and 7th (Leningrad) Symphonies. Following the performance of the Leningrad Symphony, John von Rhein wrote in the Chicago Tribune:
"I cannot recall a season finale of recent years, in fact, that sent the audience home on such a tidal wave of euphoria, and for so many of the right reasons.... Indeed, the conductor was constantly pushing the music beyond the rhetorical brink, then drawing back when things threatened to go over the top. Of course, he had the world's greatest Shostakovich brass section at his ready command. The augmented brasses blared with magnificent menace, the violins sounded their unison recitatives with vehement intensity. And the woodwinds, with their always crisp and characterful playing, reminded us of the many poetic, soft sections that separate the bombastic outbursts."
Both of Shostakovich's symphonies were recorded live by Deutsche Grammophon and the subsequent release received the 1990 Grammy Award for Best Orchestral Performance.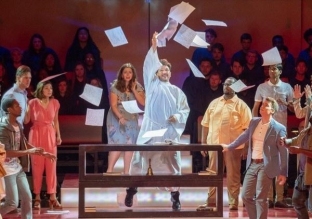 Throughout the Centennial, the CSO has performed many of Bernstein's works at Ravinia, of which a highlight was a grand production of MASS conducted by Marin Alsop. This production will receive an encore performance this summer due to its popularity last year. [Photo: Baritone Paulo Szot as the "Celebrant" in Leonard Bernsteins Mass (Patrick Gipson-Ravinia Festival)]
Ravinia's extensive continuation of the Centennial, which includes both West Side Story and On the Waterfront films with live orchestra, productions of Candide and Trouble in Tahiti, and much more, forms a wonderful culmination of the festivities. In addition, Ravinia will host the GRAMMY Museum's free traveling exhibition at their new Experience Center, opening July 23. The exhibition draws from more than 150 artifacts including photographs, personal items, papers, scores, and more.

Bernstein 101: The Celebration Continues
July 12, 8:00pm: West Side Story Film with Live Orchestra
July 13, 7:30pm: CSO with Jean-Yves Thibaudet - performing Ravel, Stravinsky & Gershwin
July 20: Opening of GRAMMY Exhibition
July 20, 8pm: MASS
July 26, 8pm: Mahler Symphony 8
July 27, 7:30pm: Lenny: A Musical Portrait in Symphony, Song and Story
Aug 9, 8:00pm: On the Waterfront Film with Live Orchestra
Aug 22, 5pm & 8:30pm: Trouble in Tahiti
Aug 28, 8pm: Candide (with the Knights)
For more information and tickets, visit www.ravinia.org